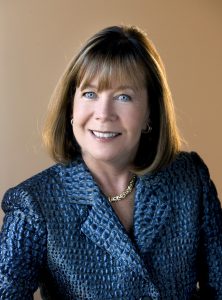 Mrs. Patricia Preston announced her retirement as Director of Education to the Board of Trustees on Tuesday, October 24, 2017. Her retirement is set for the end of January 2018.
Mrs. Preston has dedicated her life to Catholic education. She began her career at the York Catholic District School Board as a teacher at Blessed John XXIII CES in Unionville. Prior to assuming the role of Director of Education in 2013, Mrs. Preston served as the Board's Associate Director: Leading Learning, and held several leadership positions with the Board including Executive Superintendent, Superintendent of Curriculum and Assessment and Superintendent of Schools.
Our Director has been an exemplary Catholic leader through her steadfast commitment to student achievement and well-being. She has led the Board, with our 55,000 students as her focus, through the implementation of York Catholic's first Multi-Year Strategic Plan, which identifies the Board's current Mission, Vision and Strategic Priorities. Recognizing the need to establish a solid foundation for the success of all students in the 21st century, Mrs. Preston championed the expansion of the Board's 21st Century Learning initiatives, and has helped to build a bright future for students through the implementation of specialty programs, music education, and partnerships with colleges and universities.
Mrs. Preston has always maintained a clear and strong focus on collaboration and on the growth and well-being of people. As a servant leader, Mrs. Preston has helped to foster excellence in our board. Under her stewardship, York Catholic has been widely recognized for social justice, charity, technology, mental health and well-being initiatives.  These accomplishments leave the YCDSB well-positioned for continued success as one of the top performing school boards in the province.
Mrs. Preston's retirement celebration has been set for January 25, 2018. More details regarding this celebration will be available in the coming weeks.
We are very grateful for Mrs. Preston's contributions to the success of our Board, and extend all of God's blessings and our very best wishes as she embarks on a new chapter in her life.
Sincerely,
Carol Cotton
Chair of the Board