The York Catholic District School Board is proud to celebrate Black History Month throughout the month of February, and beyond.
In late January, staff and students from Markham schools attended a Black History Month event hosted by the City of Markham and the Markham African Caribbean Canadian Association at the Flato Theatre. The theme of this event was "Hidden Innovators" and it highlighted the many contributions made in STEM fields by Black people. At the event, Grade 8 students from St. Julia Billiart CES gave a live demonstration of a Rube Goldberg Machine that they built.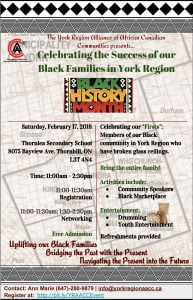 Ahead of Black History Month, Our Lady of Hope CES in Richmond Hill welcomed Loretta Penny, who is an author and award-winning speaker. Penny presented on cultivating unity, inclusiveness, compassion and empathy. This presentation helped students gain a better understanding of how empathy is the basis of a compassionate and civilized society.
Other Catholic schools across York Region will mark Black History Month in February with special events including visits from theatrical performances, morning reflections, guest speakers, school displays, and a variety of classroom learning activities.
Below is a sample of some of the Black History Month events taking place across the York Catholic District School Board that media is invited to.
Loretta Penny to present The Underground Railroad at St. John Paul II CES in Richmond Hill
St. Padre Pio CES in Woodbridge to welcome HOZA presenters
St. Nicholas CES in Newmarket to welcome musician, Njacko Backo
Loretta Penny to present Black History: An Ancestral Journey at St. David CES in Maple
African Drumming and Character Development Assembly at Good Shepherd CES in East Gwillimbury
Holy Name CES in King City to welcome storyteller and poet, Nadine Williams
Afro-Caribbean dance performance to take place at St. Kateri Tekakwitha CES in Markham
Musicians, Diana Braithwaite and Chris Whiteley to perform at St. Stephen CES in Woodbridge
Drumming workshops at St. Cecilia CES in Maple
St. Michael Catholic Academy in Thornhill to welcome musician, Njacko Backo
Record-setting rapper, Duane (D.O.) Gibson to visit St. Marguerite D'Youville CES in Richmond Hill
St. Anthony CES in Thornhill to welcome award-winning author, Itah Sadu
San Lorenzo Ruiz CES in Markham to welcome Saidat!
Drums Alive presentation to recognize Black History at St. Michael the Archangel CES in Woodbridge