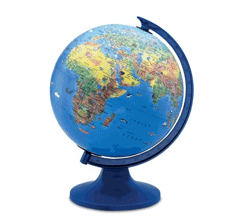 Availability

Semester 2

Prerequisite

Geography of Canada, Grade 9, Academic or Applied

Credit Value

1.0

Required Text
This course examines the major patterns of physical geography and the powerful forces that affect them. Students will investigate the dynamic nature of the earth, the evolving relationship between the planet and its people, and the factors that limit our ability to predict the changes that will occur. Students will use a wide range of geotechnologies and inquiry methods to investigate the distribution and interaction of the elements of their physical environment and to communicate their findings.
CGF3M is based on Canadian and World Studies, The Ontario Curriculum, Grades 11 and 12, Ministry of Education, 2005 and Course Profile, Physical Geography: Patterns, Processes, and Interactions, Grade 11 University/College Preparation, Ministry of Education, Spring 2001. It is comprised of five units, each of which has from five to ten activities. The first four units are term work; the final unit is the culminating task.
Units and Activities
Unit One: Planetary Systems
Unit Overview
Activity One – Ice Breaker
Activity Two – What Is a System
Activity Three – Solar System – Origins?
Activity Four – Earth within the System
Activity Five – Earth's Spheres
Activity Six – Natural Systems Impact on Human Behaviour
Activity Seven – Ecozones
Activity Eight – Human Impact on Natural Systems
Activity Nine – Unit Test
Unit Two: Structure of the Earth
Unit Overview
Activity One – Geologic Time
Activity Two – Internal Structures of the Earth
Activity Three – Rocks and Minerals
Activity Four – Plate Tectonics, History and Evidence
Activity Five – Plate Movements
Activity Six – Earthquakes
Activity Seven – Human Response
Activity Eight – Volcanoes
Activity Nine – Human Hazards and Benefits
Unit Three: Gradational Processes
Activity One – Weathering and Erosion, Mass Wasting
Activity Two – Wind Action
Activity Three – Climatic Change and Glacial Formation
Activity Four – Continental and Alpine Glaciers
Activity Five – Wave Action and Coastal Features
Activity Six – Fluvial Actions
Activity Seven – Impact of Human Activities on Gradation
Activity Eight – Resource Benefits / Resource Misuses
Activity Nine – Culminating Unit Test
Unit Four: Weather and Climate
Activity One – Factors Affecting Climate
Activity Two – Climate Zones and Influence of Climate on Natural Systems
Activity Three – Ocean Currents and El Nino/La Nina
Activity Four – Thunderstorms, Hurricanes, and Tornadoes
Activity Five – Weather Forecasting
Activity Six – Human Influence on Climate
Activity Seven – Impact of Climate on the Economy
Activity Eight – Summative Evaluation on Climate Change
Unit Five: Culminating Activities
Activity One – A Report on a Natural Hazard
Activity Two – Final Exam