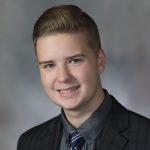 Senior Student Trustee
Email: ben.smith18@ycdsb.ca
Personal Statement
We don't attend to school just to learn reading writing and math. Rather, it's where we learn who we are, it's where we learn what it means to be a responsible global citizen, a caring family member and a lifelong learner. Put simply, school is the place where we go to find our passion in life, our something that's worth "fighting for."
Anyone who knows me knows that my biggest belief in life is that decisions are made by those who show up. So if there's piece of advice I can give you, it's simply to show up. And not just during the good times, but also the bad. Show up and give your best in everything you do.
I'm a firm believer that education is the silver bullet to every single one of the issues that our world faces. It's the vineyard of the leaders of tomorrow, those who will push the world forward, challenge the status quo and leave the world in a better place than when we found it. That fundamental principle is why I implore all of you to be involved in your schools, give everything you have and always look to get better and improve.
I look forward to representing you at the board table. Please reach out and know your opinion matters to me and I'm always more than happy and ready to work with you and stand with you for the issues that matter to you.
Remember that it's the little things that push the human race forward. And remember that having a world class education, much like the one we have at York Catholic, does not place you above the rest of the world. It makes you responsible for it.
Biography
Ben Smith is a grade 12 student at St. Brother Andre Catholic High School in Markham, whose always looking to help push the world further and inspire everyone to get involved.
In April, 2016, Ben was elected as a Student Trustee for the York Catholic District School Board by his peers. As the Senior Student Trustee, Ben will be able to reach out to students across the Board, and advocate for them by bringing their concerns and opinions forward to Board stakeholders.
Outside of school, Ben is a sports broadcaster with Rogers TV and also serves as a sports journalist with the Canadian Women's Hockey League, Metroland Media and HockeyNow Magazine.