Good Shepherd Catholic Elementary School in East Gwillimbury held its annual 'Meet the Teacher Night,' on Thursday, September 4, 2014. It was an informative and fun way to kick-off the new school year.
The night began in the gym with a presentation by Public Health Nurse, Judy Barth. She stressed the importance of healthy eating habits, regular exercise, and a good night's sleep, as ways for students to better prepare for learning in schools.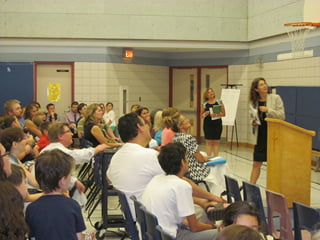 The second presenter was Constable James Needler, from the school's VIP (Values, Influences, and Peers) Program, which encourages students to be supportive of one another both inside of the classroom, and out in the community. James discussed the importance of keeping children safe by being aware of their technology use.
Dr. Patricia Bucci, from the Board's Student Services Department spoke with parents about a wide-variety of strategies they can use to instill an appreciation of learning in children. She also reviewed important skills needed for learning.
To end the night, Scott Boland, ICT Coordinator, and Jennifer Casa-Todd, Literacy Consultant with the Board spoke about 21st Century Learning, and the school-parent partnership.
During the presentations, families had a chance to taste pasta provided by a new vendor for the school, which will be offering hot lunches.
It was a good night, and Principal Domenica Ferri-Violante thanks everyone who attended.