The York Catholic District School Board welcomes its new Student Trustees for 2014-2016. Natasha Iaboni, a Grade 11 student at St. Maximilian Kolbe CHS in Aurora is the Board's new Junior Student Trustee as the former Junior Student Trustee, Joe McLeod, takes the position of Senior Student Trustee. Natasha is the 16th student to serve on the York Catholic District School Board.
Natasha took the oath of office at her first board meeting on August 26, where she pledged to serve York Catholic students as part of her official responsibilities.
As a student trustee, Natasha will relay the concerns, opinions and ideas of her peers from all York Catholic schools and bring their concerns to the Board of Trustees, along with her co-student trustee, Joe McLeod, Grade 12 student at Our Lady of the Lake Catholic College School in Keswick.
Natasha said that she is looking forward to representing York Catholic students.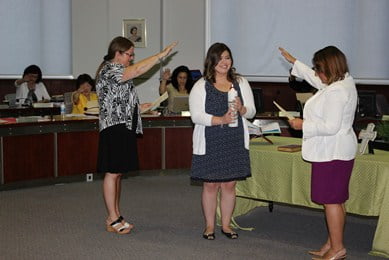 "Every student deserves to feel included, welcomed, and above all, respected in their school," said Natasha. "I want to encourage all students to speak their opinions, and allow me the honour to relay those messages to the Board. I have a genuine passion for working with, and helping others, while keeping an open-minded attitude. I believe that all students deserve an equal chance, and should have the same opportunity for a great high school experience. I will try my best to make that happen."
Students can contact Natasha by emailing: Natasha.Iaboni@ycdsb.ca.