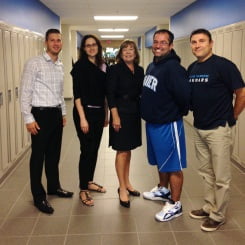 World Teachers' Day is celebrated around the world annually on October 5th. Created by UNESCO (the United Nations Educational, Scientific and Cultural Organization), World Teachers' Day recognizes the contributions of teachers worldwide and aims to mobilise support for teachers and to ensure that the needs of future generations will continue to be met by teachers. The day also helps to raise awareness, understanding and appreciation for the invaluable contributions that teachers make to education and development throughout the world.
In this season of Thanksgiving, the York Catholic District School Board extends a heartfelt thank you to all of its teachers for their commitment to Catholic Education, and for their leadership and dedication to the students and families they serve.
A Prayer for World Teachers' Day
Giver of all wisdom and greatest of all teachers,
Look upon our teachers with love
Grant them the resolve to nurture our eager minds
and to never give up on us who fall behind.
Bless their hearts for they rejoice
when we succeed and encourage us when we fail
And bless them with gentle patience
for the path of learning is never easy
Kindle a spirit and passion in them
it is the flame that ignites the love of learning in us
Help them see the potential in each student
Their belief in us means much more than the grade we make
Instill in them a commitment to keep on learning
It shows us to not fear new knowledge and experiences
Inspire them to touch the future
They influence how big a dream we dream for ourselves
Bless our teachers who have come before
For their work endures to this day
Let the light of your example shine upon all teachers
To build up with their words
To love with their mind
To share with their heart.
Amen