The York Catholic District School Board congratulates Mariam Walaa, Grade 12 student at St. Augustine Catholic High School in Markham, for creating an award-winning video about the importance of financial literacy for teens.
Mariam created the video for the Junior Economic Club of Canada's Financial Literacy Academic Challenge. The short video encourages teens to take charge of their finances and learn to budget and plan for their expenses. Mariam effectively connects with a teen audience as her video gives students tips and ideas on how to responsibly plan and pay for their prom, calling it "one of a teenagers' most pricey events."
Mariam spent three months working on her video submission and said she chose to focus on prom because it is often the first big expense a student will need to plan for themselves. She said that she "sees a lot of teens wasting their money, while also worrying about having enough money for things, like prom." Mariam also noted that, "many students expect that their parents will be responsible for their prom expenses," although the parents may be unaware of this. "Parents need to talk to their children about paying for prom."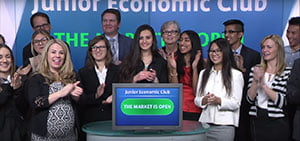 This fall, Mariam learned that her video submission was chosen as the winner for the Financial Literacy Academic Challenge by a team of 12 prominent business CEOs. Mariam was awarded a $5,000 scholarship from the Junior Economic Club of Canada. She was also awarded the opportunity to open the Toronto Stock Exchange on Monday, November 23, 2015.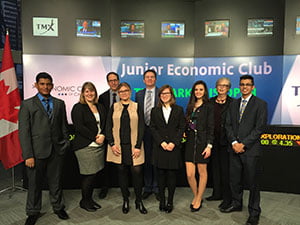 Mariam's interest in personal finance began while taking her first accounting class at St. Augustine CHS. Since then, she has taken a few business courses at her high school, including a Financial Security and Accounting course that she credits with helping her understand the importance of planning and managing personal finances. Mariam believes that it is essential that "all students learn how to manage their finances before they finish high school," and is promoting a petition to have a financial literacy course added as a mandatory part of Ontario's high school curriculum. Mariam hopes to be accepted to the Schulich School of Business at York University for next year.