This fall, St. Kateri Tekakwitha Catholic Elementary School held several special events and initiatives to help raise awareness and about bullying prevention and intervention.
The Markham school introduced a Buddy Bench in its outside play area for primary grade students. The Buddy Bench encourages students to support one another in an effort to eliminate exclusion and to develop friendships. If a student does not have anyone to play with, they can go to the Buddy Bench, and when other students see someone at the Buddy Bench, they then know that they should invite that student to play. The school hopes that the Buddy Bench will help to ensure that each student has a friend with whom they can play with and speak to during recess.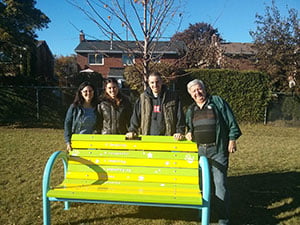 Musician and Motivational Speaker, Errol Lee visited St. Kateri Tekakwitha where he gave three presentations, one for each division of students – primary, junior and intermediate. He spoke to the primary students about the Golden Rule, treating others the way you want to be treated. He also helped students to develop skills having to do with being a good friend and encouraging positive behaviour. The junior presentation focused on the power each of us has on making a difference.  The message is based on his book, The Hero Club, which focuses on the four main character traits: Honesty, Empathy, Respect and Optimism. The intermediate presentation focused on reflection and supporting mental well-being.  This concert-like presentation resonated with students and fostered the development of a positive self-image and the importance of showing compassion for others.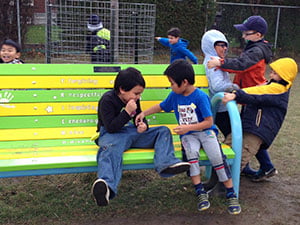 St. Kateri Tekakwitha also welcomed Duane Gibson, also known as D.O., who performed a motivational assembly called "Stay Driven."  The assembly focused on anti -bullying, self-confidence and leadership.  The acronym HOLLA, standing for, Help, Outlet, Lead, Leave and Assert were some of the strategies and behaviours shared with students as possible responses to bullying situations.  D.O. was energetic, engaging, reflective and motivating in his message.
Parenting expert, Paul Davies also visited the school to speak with junior and intermediate students, as well as parents about the internet, social networking, and safety measures that can help to protect children from potential harm.