The first Board meeting of the new school year was held on August 30, 2016. Before the Board meeting, the Most Reverend Bishop Wayne Kirkpatrick celebrated Mass. This was followed by a swearing in ceremony for York Catholic's new Student Trustee, Ben Smith, and a commissioning ceremony for the Board's new Associate Director: Strategic Leadership, Frances Bagley; and our new Superintendent of Education: School Leadership, Marianne Fedrigoni. Chair of the Board, Carol Cotton joined Bishop Kirkpatrick in leading the blessing and commissioning ceremony. Director of Education, Patricia Preston thanked Ben, Frances and Marianne for their leadership and service to York Catholic.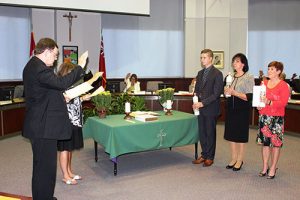 Ben is a Grade 11 student at St. Brother Andre Catholic High School in Markham, and will serve as the Junior Student Trustee this school year. He said he is looking "forward to bringing the student voice as well as the concerns of all students to the Board table."
Frances Bagley previously held the position of Coordinating Superintendent. In her role as Associate Director: Strategic Leadership for the Board, Frances will oversee a number of important portfolios including policy, accessibility, and the Board's Multi-Year Strategic Plan and Long-Term Accommodations Plans.
Marianne Fedrigoni will serve as Superintendent of Education: School Leadership for Area 3 (Woodbridge). She was previously the Principal on Assignment for Human Resources and Academic Services.