The York Catholic District School Board congratulates William 'Aidan' Aird, Grade 12 student at St. Brother Andre Catholic High School in Markham, on recently being selected as a 2017 Schulich Leader at the University of Toronto, winning $100,000 in scholarship funding.
Those who know Aidan are not surprised by his most recent accomplishment, as he has earned several prestigious awards, including winning several gold medals at York Region Sci-Tech Fairs over the years.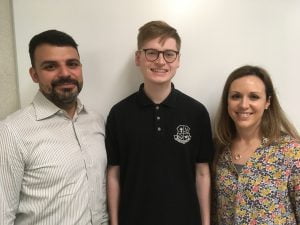 Throughout high school, Aidan competed in SBA's Robotics club, Model UN, Reach for the Top, tennis and curling teams, often mentoring other students. He also played in the school's concert band and would play the Last Post on trumpet during the school's Remembrance Day assemblies. He also coached special needs soccer and started two organizations that connect young scientists and inspire them to create positive change in the world, Developing Innovations, and STEM KIDS ROCK.
Aidan was nominated for this award by a Guidance Counsellor, Natale Gencarelli. St. Brother Andre CHS Principal, Eugene Pivato said that "Aidan has consistently demonstrated exceptional dedication, participation, and service to his school and community. His accomplishments are rooted in a philanthropic vision to empower other young leaders to improve our human condition. Aidan is humble, confident, inventive, respectful, hopeful, determined, and capable of bringing many people together to achieve success. I am certain that he will be an incredible leader in the world of Science, Innovation, and Business for decades to come."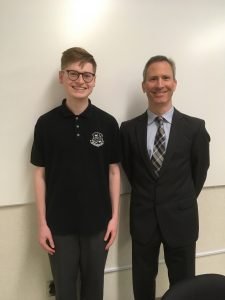 Aidan will begin studies at the University of Toronto in the fall. He was one of two students from across Canada who were selected to receive the scholarship for the University of Toronto.
Schulich Leader Scholarships are prestigious entrance scholarships awarded to high school graduates enrolling in a Science, Technology, Engineering or Mathematics (STEM) undergraduate program at participating universities. Recognizing the increasing importance and impact that STEM disciplines will have on the prosperity of future generations, businessman and philanthropist Seymour Schulich established this $100 million scholarship fund in 2012 to encourage our best and brightest students to become the next pioneers of global scientific research and innovation.