Aurora student leads the York Catholic District School Board's graduating class with an average of 99.67%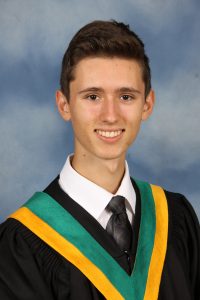 Chris Staykov from Cardinal Carter Catholic High School in Aurora scored a near perfect, 99.67%, making him the York Catholic District School Board's top graduating student in 2017.
Chris was enrolled in Cardinal Carter's International Baccalaureate (IB) program, which meets the Ontario curriculum and also offers a rigorous, internationally-recognized curriculum. "My high school experience was great," said Chris. "There's a great sense of community in the IB program. The students in the program faced the challenges together, along with our teachers, who were very supportive."
Chris indicated that time management was the key to his success. He schedules blocks of time to complete all of his tasks, such as homework assignments, into the calendar on his mobile smart phone. This helped to keep him organized and ensured that he could efficiently manage multiple projects.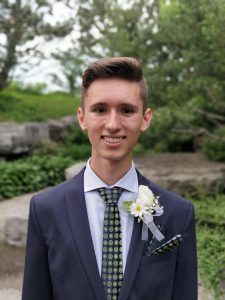 At Cardinal Carter, Chris participated in several clubs and activities including the school's Legacy Leadership Council, OSAID Chapter (Ontario Students Against Impaired Driving), Free the Children committee, and UN Assembly. His advice for high school students is to not be afraid to try new things. "There are so many opportunities in high school for students to get involved and learn new skills. You never know what might spark your interest, so try everything."
This philosophy drove Chris to choose a co-op program for his post-secondary studies. In September, Chris will begin a five-year Systems Design Engineering Program at the University of Waterloo. It is an interdisciplinary program that will provide him with a chance to get work experience in different engineering fields before he decides which career path to follow.
Outside of school Chris works as an Assistant Teacher for an organization that delivers math classes for high-performing and gifted students. Chris resides in Richmond Hill and attended elementary school at YCDSB's Our Lady of the Annunciation CES in Oak Ridges.
The York Catholic District School Board congratulates Chris and wishes him much success in the future.
Following is a list of the top scholar from each York Catholic secondary school, based on the average of their best six Grade 12 courses.
The Top Scholar from each York Catholic Secondary School, by Community
Student Name
School
Community
Grade 12 Average*
* Based on the average of the student's marks in their six best Grade 12 courses, to two decimal places.
Chris Staykov
Cardinal Carter CHS
Aurora
99.67
Kristen Victoria Harrington
St. Maximilian Kolbe CHS
Aurora
98.83
Anthony Latorre
Our Lady of the Lake CCS
Keswick
94.17
Stefani Mihilli
St. Joan of Arc CHS
Maple
98.00
Amaar Syed Quadri
Father Michael McGivney CA
Markham
99.50
Julia Dominique de Xavier
St. Augustine CHS
Markham
98.83
Abigail Clapperton
St. Brother Andre CHS
Markham
99.33
Ryan Reid
Sacred Heart CHS
Newmarket
97.33
Sophie Jane Morgan
Jean Vanier CHS
Richmond Hill
98.33
Juwon (Julie) Lee
St. Theresa of Lisieux CHS
Richmond Hill
99.50
Maya Pavlova
St. Theresa of Lisieux CHS
Richmond Hill
99.50
Matthew Faiella
St. Elizabeth CHS
Thornhill
98.33
Michael Jiyu Song
St. Robert CHS
Thornhill
99.16
Teodora Marginean
Father Bressani CHS
Woodbridge
98.33
Dilini Hapuhennedige
Holy Cross CA
Woodbridge
98.17
Sheena Khan
St. Jean de Brebeuf CHS
Woodbridge
99.00