On Tuesday October 3rd, the St. Elizabeth Catholic High School community celebrated its newly renovated courtyard with an outdoor mass at the Vaughan school.
The beautiful outdoor space will allow the school to host outdoor masses and other community events. It is also a space where students and staff can go to for personal reflection and to pray.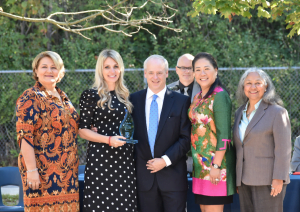 The school thanks the following organization and people, whose generous donations of time, talent and materials made the renovation possible: Mario Racco, President and CEO of Elected Inc., Racco Legal Services Professional Corporation and Racco and Associates; Tony Pacitto of Beaver Valley Stone and John Gauley of Laborers' International Union of North America.