Our Lady of the Lake Catholic College School in Georgina's Keswick community will host an Open House for families on Thursday, February 8, 2018 from 6 p.m. – 8 p.m. All families in Georgina are invited.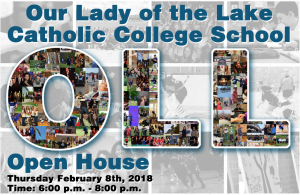 The Catholic College School serves students in Grades 7-12 in a unique model that helps students to develop spiritually, intellectually, physically, and socially. Our Lady of the Lake students are taught, not only to be great students, but also responsible citizens who make positive contributions to their community.
Our Lady of the Lake CCS has become a cornerstone of the Keswick community since it opened in 2002, and over the years, many enhancements have been made to the delivery of its academic curriculum and extra-curricular programs. Today, the school serves over 500 students who regularly perform among the best in Georgina on Ministry of Education mandated EQAO and OSSLT testing.
Students significantly benefit from the unique programming offered to Grade 7-12 students at Our Lady of the Lake CCS. The Grade 7 and 8 programs are designed to foster student engagement and academic achievement. A mentorship program helps younger students feel included and respected by their older peers. As students enter the Grade 9 – 12 program, they are already well adjusted to the school and can focus on further developing their leadership and academic skills.
The Open House will include information on Our Lady of the Lake Catholic College School's course offerings; specialized programs including Dual Credit, Specialist High Skills Major, and Ontario Youth Apprenticeship Program; athletic teams, student clubs and councils.
Application packages will be available to interested families. Guests will have the opportunity to tour the school, including its auto shop, technology room, weight room, gymnasium and music room. Several of the school's community partners will have displays set up during the Open House. Light refreshments will be served. For more information please call 905-656-9146.
Our Lady of the Lake Catholic College School is located at 185 Glenwoods Avenue in Keswick, Ontario. Families can drop-in from 6 p.m. – 8p.m. on Thursday. February 8, 2018.