Over 200 people gathered at the Venetian Banquet and Event Venue in Vaughan on January 25, 2018 to celebrate the retirement of Patricia Preston, Director of Education.
The retirement celebration which included performances by St. Elizabeth CHS music students, and special guests such as His Eminence, Thomas Cardinal Collins, Reverend Bishop Wayne Kirkpatrick, Ministry officials, members of York Regional Police, among others, honoured Director Preston's five year tenure as Director of Education and her impressive 35 year career with York Catholic District School Board.
Tributes throughout the evening focused on Mrs. Preston's outstanding leadership, her deep sense of justice and faith, and her optimism and strength of character.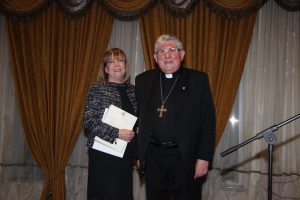 His Eminence Cardinal Thomas Collins began the evening's tributes. The Cardinal led a special blessing and thanked Mrs. Preston, "On behalf of the Archdiocese of Toronto and the Catholic community in York Region, I wish to thank you for your extraordinary contributions to Catholic Education. For 35 years you have helped to shape the education and faith of thousands of students. In your role as Director of Education, I have appreciated your partnership as we worked to promote and celebrate the noble mission of Catholic Education."
Mrs. Preston began her teaching career in Ottawa, with the Ottawa Separate School Board, and joined York Catholic DSB in 1983 where she taught at St. John XXIII CES in Unionville.  Mrs. Preston served as Vice-Principal, Principal, Superintendent of Schools, Superintendent of Curriculum and Assessment, Executive Superintendent, and Associate Director: Leading Learning, before being appointed to the position of Director of Education in 2013.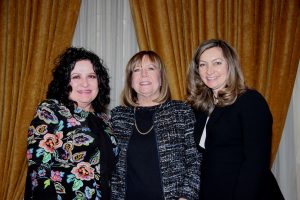 "Mrs. Preston has led the YCDSB with great integrity, loyalty and creativity.   Among her accomplishments are the Multi-Year Strategic Plan, expansion of speciality programs throughout the board, 21st century learning, Healthy Schools, Mental Health initiatives, the opening of new schools, fostering safe and caring environments, forging new partnerships, and ensuring a compliant budget," said Mary Battista, Superintendent of Education, who emceed the event along with Tina D'Acunto, Superintendent of Exceptional Learners.
The evening also included tributes from a number of dignitaries who offered their congratulations to the Director via letter. These tributes were from Prime Minister, Justin Trudeau, Premier of Ontario, Kathleen Wynne, Chairman of York Region, Wayne Emmerson, MPP for Markham-Unionville, Michael Chan, and City of Markham, Mayor Frank Scarpitti, who wrote: "As both Mayor of Markham, and a father of two sons who studied in the York Catholic District School Board, you have always been focused on creating strong foundations for Catholic students to succeed, and I truly thank you for that!"
Doug Crichton, Regional Manager, representing the Ministry of Education acknowledged Mrs. Preston's vision and leadership in maintaining York Catholic's exemplary top-performing status across Ontario school boards; and York Regional Police, Superintendent Ricky Veerappan, thanked Mrs. Preston for YCDSB's strong partnership with YRP and promoting safe communities.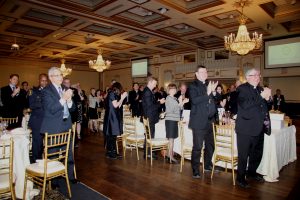 The retirement celebration also focused on charity and social justice. During her tenure, Mrs. Preston promoted many initiatives in support of those most vulnerable. YCDSB staff, parents and students have donated millions of dollars to charitable causes over the years.  Last year, YCDSB raised $144,000 for ShareLife. Director Preston announced a personal donation to ShareLife as well as the Markham Stouffville Hospital Foundation, where she served as a Board member, in honour of YCDSB's long-standing partnership and commitment to these organizations.
Several speeches and tributes were made throughout the evening and each of them shared a common theme about Mrs. Preston's collaborative and engaging leadership style, her ability to adapt to changing demographics across York Region, and how she led a process of transformation in the Board's leadership structure by mentoring staff and cultivating positive relationships.
Current Chair of the Board, Elizabeth Crowe, and Past Chair, Carol Cotton, said, "Pat is a dedicated disciple of the Lord and a humble leader who has been a staunch support to those in her care."
YCDSB's Senior Student Trustee, Ben Smith, spoke on behalf of Junior Student Trustee, Sophia Trozzo, and all York Catholic students:  "With a smile on her face, she's was always willing to work with us to understand the needs of all students. She listened and offered suggestions while also reminding us to be unapologetically proud of what we accomplish everyday in Catholic education. Thank you for believing in Sophia and me."
On behalf of YCDSB's Senior Team, Superintendent of Curriculum and Assessment, Diane Murgaski remarked, "Your leadership style has created safe spaces for strong teams, including our senior team. You have made us feel respected, supported and confident in each other. What makes your leadership so special is that you have always reflected praise back to your staff, sharing the warmth of work well done and the joy of appreciation. Thank you for sharing the richness of your positive leadership with us."
Luisa Busato and Iolanda Faraone, representing the Elementary and Secondary Principals' and Vice-Principals' Association thanked Mrs. Preston for supporting school administrators, "Despite the enormous responsibilities in your role as Director, you always took the time to call newly appointed Principals and VP's on their first day in the role and often made informal visits to schools at the beginning of each school year."
Chair of the York Catholic Parent Involvement Committee, Donna Psaila, thanked Mrs. Preston for her work in the area of parent engagement and said: "Patricia consistently welcomed parental input, staunchly supported our parent engagement initiatives, and strengthened the home and school partnership. What a tremendous benefit this provides for our students!"
Stephen Dignard, President of CUPE 1571 remarked, "I could always email or call Pat and ask for a meeting to deal with any issue, big or small. She was more than willing to oblige because everyone is worth her time no matter the issue."
Heather Manassis, President of the OECTA York Unit acknowledged Mrs. Preston's mother, Helen Dillon, for nurturing and inspiring Mrs. Preston's collaborative leadership approach: "Pat's respect for, and appreciation of teachers and OECTA was always evident and had clearly been instilled at a very young age."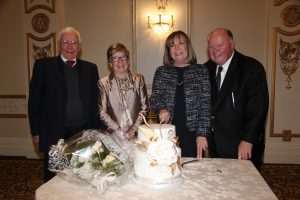 In her closing speech Director Preston thanked Trustees, Board and School staffs and community partners, and said:  "All of us in Education have the precious gift of making a difference in the lives of our children. Our impact is immeasurable, and we will not always know how we changed the lives of students, staff and communities. There is nothing more rewarding than reflecting on the hope and care that we bring to our communities, and the success that we have nurtured in others."
The York Catholic District School Board congratulates Director Preston on a well-earned retirement! May God bless you always.