Cardinal Carter Catholic High School in Aurora and Sacred Heart Catholic High School in Newmarket have teamed up to present two mental health summits on February 15, 2018. Leah Parsons, mother of Rehtaeh Parsons will be the keynote speaker at both events.
The first summit, which will be held during the school day at Cardinal Carter CHS, will focus on mental health challenges and supports for students. Approximately 120 students from the two schools are expected to attend.
The second summit will be held in the evening at the Board's Catholic Education Centre and is open to the entire YCDSB community, including parents and staff from all schools. Registration is required.
Student clubs at the two schools that focus on mental health, Jack.org at Cardinal Carter, and the Empowered Student Partnership (ESP) at Sacred Heart organized these events along with their teacher-advisors: Lisa Craveiro and Julia Vaccari-Perrone (Cardinal Carter) and Natalie Rovere and Melissa Hayden (Sacred Heart).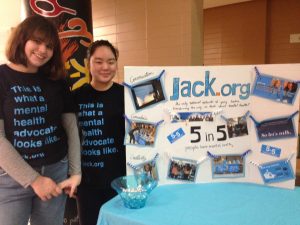 "We wanted to address the growing need for mental health supports for students," says Natalie Rovere, Teacher. "My colleague at Cardinal Carter, Lisa Craveiro, saw Leah Parson speak at an event and was struck by the raw emotions of Rehtaeh's story and the aftermath. We look forward to having her share her difficult story with our York Catholic community, in hopes that it will inspire us all to do better."
Rehtaeh Parsons was a high school student from Nova Scotia who died by suicide following an alleged sexual assault and bullying. Her story has drawn international attention and was the catalyst for a new cyberbullying law in Nova Scotia.
"Mental health and well-being is complex and multifaceted, says Rovere. "These summits will help raise awareness, provide participants with helpful strategies, and connect students, staff and parents to community resources."
A number of mental health advocates, professionals and representatives from community organizations will also present at the summits such as: Yellow is for Hello, Jack.org, Canadian Mental Health Association, York Regional Police Youth Mental Health Group, Art Not Shame, and Bell Let's Talk.