Six o'clock in the morning isn't usually when you would expect the parking lot of an elementary school to be bustling with activity. However, on the morning of Monday, November 19, Blessed Trinity Catholic Elementary School in Maple was perhaps the liveliest place in all of York Region. It was selected as the school to launch the CP24 CHUM Christmas Wish, which is supported by the City of Vaughan's annual toy drive.
"I was ecstatic!" said grade 8 student Adrian Carcone when asked about getting to take part. A former national speech finalist, he was one of three students who hosted the early morning event in English, French and Italian respectively. The event had particularly special meaning for Carcone whose family has been supporting the CP24 CHUM Christmas Wish through the City of Vaughan for 20 years.
For Blessed Trinity Principal Anna Maria Di Giammarino, the chance to host the event was a clear message to her community: "It's an awesome opportunity to give back to the GTA," she said. "We are able to live out our faith, pay it forward with the gift of giving." Donning a Santa hat, she and her staff had for weeks been preparing over 200 students for the event, which took place in the school's gymnasium. Broadcast live on CP24 Breakfast, students shared a wide range of their talents on-air, including singing Christmas carols, dancing and even showcasing 21st century learning in a Santa's STEM Lab, using techniques such as 3D printing.
The choir of @BTY_YCDSB performing LIVE on @CP24 for the launch CHUM Christmas Wish #christmas pic.twitter.com/X76Tmhns9x

— YCDSB (@ycdsb) November 19, 2018
Present to help launch the toy drive were Vaughan Mayor Maurizio Bevilacqua, who formally launched the campaign, councilors from the City of Vaughan, Trustee Teresa Ciaravella, YCDSB Director of Education Ab Falconi and Associate Director Frances Bagley along with Superintendent Mary Battista, who all took time to meet with students and their parents over the course of the morning.
French student host Juliana DeFilippis who was interviewed live on-air, spoke of how exciting the event was for the community, but admitted to how nerve wracking the experience was: "There's a lot to be said, but you want to pick the right words to say it." Italian student host Samantha DeRose noted how preparing for the event took weeks of practice, especially in getting her pronunciation just right. But she said that it was all worth it, "so that [it] could be as special as it was."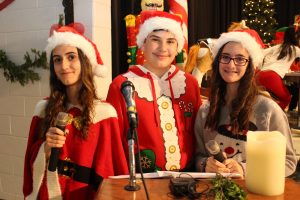 "I have a stellar team of teachers, custodial staff, secretaries," said Principal Di Giammarino.  "Everyone in the house in one way or another leant a helping hand. Behind the scenes, in front of the camera and really what they showed the community is what they show each and every day: their commitment to the vocation of teaching. Our students are awesome and they came together just eager to be who they are and pay it forward."
To learn more about the CP24 CHUM Christmas Wish or to donate please visit the campaign's official website.