Elite Karate Competitor Adds '2019 Miss Teen Globe Americas' Title To Growing List of Accomplishments
2019 has been a busy year for Sacred Heart CHS student Mahta Gharaei, one filled with intense challenges, international travel, and a growing passion for competition.
Earning a reputation in national circles as a talented specialist in Kumite (one of the three intensive elements of Karate that focuses on sparring with an adversary), Mahta trains to deliver power, speed and control to every match.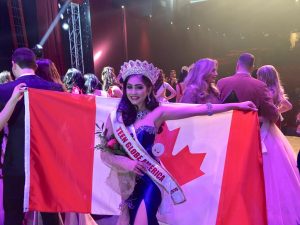 Last July she brought this physical and mental discipline to a new stage, entering the prestigious 2019 Miss Teen Globe International Pageant in Paraguay. In this forum, Mahta represented Canada, met with youth leaders from around the world, and shared new perspectives on contemporary issues. This incredible journey culminated with an exciting dual win, as Mahta was awarded the title of Miss Teen Globe Sports, and crowned Miss Teen Globe Americas.
Not one to rest on her laurels, she competed in the Pan American Championships in Guayaquil, Ecuador in August, and in spite of injury, fought hard and kept spirits high, for herself, and her Junior National teammates from Karate Canada. Having distinguished herself at the Canadian National Championships earlier in the year, she took silver for Female Kumite Cadet as well as Silver medal as part of Team Kata, representing Team Ontario.
Along with her studies, Mahta also finds time to act as an Official Ambassador for the international organization, Operation Smile, advocating for life-changing surgery for children with cleft conditions. She also works closer to home as a youth ambassador in York Region's vital program for at-risk youth, 360Kids.
Congratulations Mahta on all you do, keep up the great work!