Orange Shirt Day is commemorated across Canada every September 30th, to acknowledge the impact of the residential school system, raise awareness and honour Indigenous communities, and promote reconciliation.
Orange Shirt Day started in the spring of 2013, when a commemoration event was held in Williams Lake, BC to honour those who attended the St. Joseph Mission residential school. Orange Shirt Day was inspired by the experience and story of Phyllis (Jack) Webstad whose shiny new orange shirt was taken away from her on her first day of school at St. Joseph Mission. Her story and Orange Shirt Day is now used as an excellent opportunity to raise awareness and foster discussions about all aspects of residential schools.
YCDSB schools and its Board office will mark Orange Shirt Day on Monday, September 30, 2019, with a variety of activities, prayer services, events, and encouraging students and staff to wear an orange shirt to school/work.
Schools are encouraged to share messages of hope and reconciliation, and the impact they are making on Orange Shirt Day by Tweeting to York Catholic's Indigenous Education Twitter account: @FNMI_YCDSB, and/or the Board's Twitter account: @ycdsb using the hastag:  #OrangeShirt_ycdsb.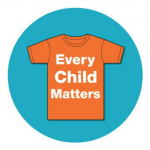 For more information, please visit: orangeshirtday.org.