David Calabrese is a Grade 12 student at St. Elizabeth Catholic High School with a dream to play professional baseball. One might say he lives and breathes the sport. Recently, he has been invited, as one of Canada's top high school players, to represent his country on the Junior National Team.
"David is an outstanding student. He is a testament to what hard work, determination and lots of practice can accomplish. We look forward to his continued contributions, both on the field and off," said John Heinrich, principal at St. Elizabeth.
Calabrese has been playing with the Ontario Blue Jays, Canada's premier amateur baseball program, for five years. In addition to playing for Team Canada, he also received an athletic scholarship at the University of Arkansas, a perennial NCAA Division I powerhouse, where he will study business and sports management.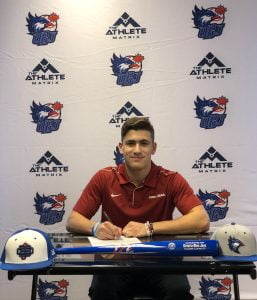 "When I got the call from Team Canada, it was a dream come true for me and something I have been working very hard towards for a long time. I am extremely honoured and privileged to play for my country," said Calabrese. "I always loved the sport for as long as I can remember and asked to start playing baseball when I was four. It's the sport that I love and am the most passionate about."
His dream to play in Major League Baseball (MLB) may come true as he is currently one of the top Canadian prospects heading into the MLB draft when the season returns.
York Catholic is rooting for you, David!