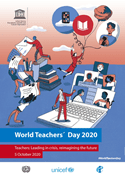 In 1994, October 5 was declared World Teachers' Day to commemorate the anniversary of the collective Recommendation concerning the Status of Teachers by the International Labour Organization (ILO) and UNESCO.
On this World Teachers' Day, we would like to take this opportunity to thank our teachers for their commitment and contributions to ensuring that our students experience a faith-filled, safe and successful school year. These are challenging times, and we are truly grateful for our teachers who have  stepped up to the challenges that we face every day during this pandemic. They truly make a difference in the lives of their students.
This year's theme is Teaching for a better world: Together in strength and solidarity. We will continue to work together to respond to our students' social and emotional needs and ensure that no student is left behind. Let us reflect on the words of Jesus,
"A new command I give you: Love one another. As I have loved you, so you must love one another.  By this everyone will know that you are my disciples, if you love one another."

John 13: 34-35
We invite those around us to celebrate the role that our teachers play in enhancing and embracing Catholic education in Ontario.