Robert Ruscitti's Grade 12 Politics class at Cardinal Carter Catholic High School recently hosted the Honourable Jean Augustine as a virtual guest speaker.
Jean Augustine is a former Member of Parliament (MP) for Etobicoke-Lakeshore, and was Parliamentary Secretary to the Prime Minister during Jean Chretien's administration. Her present day work focuses on advocating for minorities, women and girls in Canadian social, political and economic life.
Students had the opportunity to ask Augustine questions during the town-hall style discussion, most of which focused on her early life and teaching career, her experience in politics, and her current work highlighting the achievements of Black Canadian women and ways she works to empower young women domestically and abroad. Augustine spoke to the numerous obstacles she encountered as a young Black woman, and how those challenges inspired her to do political and advocacy work. Her humility and gratitude was evident in her interactions with the Grade 12 students as she recounted the difficult decision to immigrate to Canada in 1960, her tireless work as a Catholic school teacher and a principal in Toronto, and her fight for minority rights, including same-sex marriage in the House of Commons.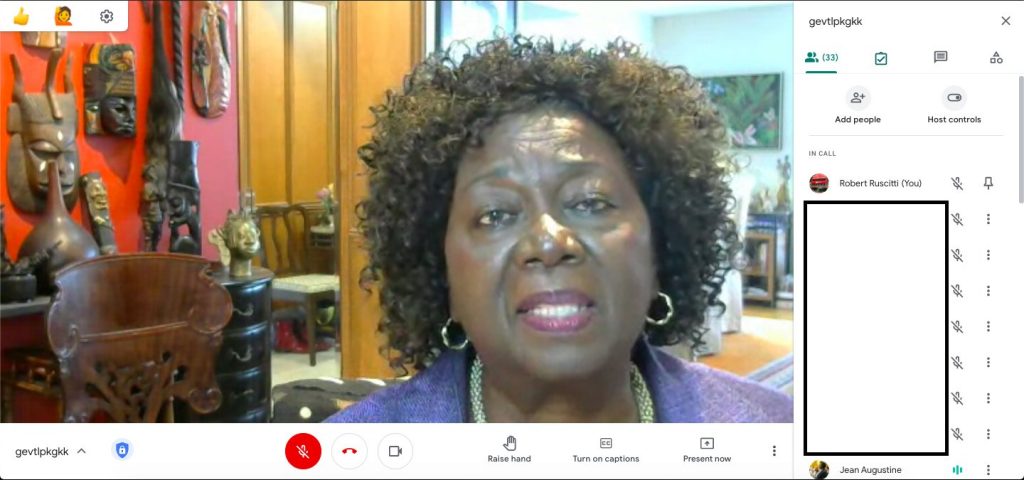 The York Catholic District School Board (YCDSB) prides itself on developing students' character through the teaching of Gospel values, and preparing students for their role in society. Part of this role is understanding and protecting their rights as Canadians, and the rights of their peers.
The opportunity the Grade 12 Cardinal Carter CHS students had to empathize and learn about her journey is critical in helping students learn to better analyze the deep-seeded challenges for women of colour in our current political system. YCDSB is committed to improving student success through designing and implementing inclusive curriculum; one that provides students the opportunity to interact with and learn from those, such as Augustine, who previously and presently advocate for inclusion of minorities and the rights of marginalized Canadian communities.
Speaking on the future of Canadian politics and our responsibilities as Canadians, Augustine said, "We are responsible for everything we do and say; we have a responsibility to each other here in Canada and in any part of the world." These words are lasting not just in the current context of a worldwide pandemic, but for the whole of humanity as we progress forward from this crisis. Below are a few comments from some of the students about this guest speaker experience.
Student Testimonials
I had an absolutely amazing experience today with Ms. Augustine. I love to talk to powerful women in politics and hear their unique stories. She shed light on our Google meeting and not only took our thoughts away from COVID-19 but did it with grace and humour. She provided so much insightful information allowing my classmates and I to grasp it and learn so many new things.
Our Canadian and World Politics class was honoured by the virtual visit and the opportunity to engage with the inspirational and Honourable Jean Augustine. She credits her achievements and accomplishments to her determination and perseverance through hardships she has faced in both her early and political life. Ms. Augustine was able to provide better insight into her devotion of providing social justice in Canada, through her community and government involvement. She has helped us to better our understanding of the importance of inclusivity and social justice in our lives and our individual accountability to finding the solutions to injustices we face in society today.
I gained a lot of value out of our conversation with Ms. Augustine. She spoke about a breadth of important issues that came up during her tenure as Member of Parliament, many of which are still widely applicable. Our class got a first hand account of her experiences as a Black woman in politics and it was very inspiring to hear her story. She highlighted that despite being a minority and a woman in a male dominated profession, she was able to trump those adversities and make notable change for every Canadian.
Ms. Augustine was unsurprisingly a font of wisdom and personality. While I hadn't imagined that such an accomplished woman could be anything less than fascinating, I was still astounded and delighted by the openness that Ms. Augustine shared with us. To have a conversation with a group of students as she did, without the paternalism or stuffiness unfortunately endemic to many politicians of her generation, is no small feat. Even when asked critical and challenging questions, she was honest, straightforward and humble. While I may not agree with all of Ms. Augustine's positions, she has nonetheless earned my respect.
Our Canadian and International Politics class was given the extreme pleasure to converse with the incredible, Honourable Jean Augustine, who among her many accomplishments, was one of the first two Black women to be elected into the House of Commons. Ms. Augustine spoke to us about her personal experience in working with the Canadian government, and gave us insight to how the average day looked for her. I personally found this experience to be extremely inspirational. Ms. Augustine showed us to fight for what we believe in and that we can overcome any challenge as long as we put our mind to it. Ms. Augustine also provided great insight for students like myself who plan to pursue a career in political science. Overall, the experience we were given today was unlike any most of us have ever had and can show us how students such as ourselves are one day capable of making great change in the world.