On Monday, St. Catherine of Siena CES welcomed Karl Subban who spoke virtually with students and staff as part of the Woodbridge school's Black History Month events. Karl Subban is an Author, Educator, Motivational Speaker, Storyteller and Father of three NHL players P.K., Malcolm and Jordan!  
Before his visit, the school kickstarted the day with a video about NHL All Star, P.K. Subban.
During his presentation, Subban discussed details of his personal life story and book, How We Did It: The Subban Plan for Success in Hockey, School, and Life.
During the virtual presentation he spoke about race, bullying, social and economic issues, and the many obstacles he has had to overcome to help his family and others break down barriers. He outlined how he followed the hockey journey from house league to the big leagues as a Black family, and how he continues to be an advocate for his children.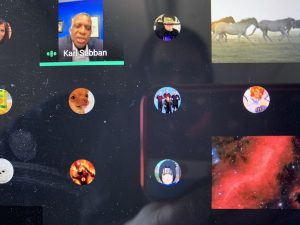 Karl Subban was born in Jamaica and moved to Sudbury when he was 12 years old. He told the St. Catherine of Siena students about how he was apprehensive to go outside into his new neighbourhood after moving to Canada to socialize with the other children. He described himself as fearful because he did not look like the other children, nor speak French. Another factor that initially held him back was that Sudbury did not look like the environment he knew in Jamaica. Despite this, one winter day he mustered up the courage to join the other children in his neighbourhood and found that they were accepting and inclusive, and as a result, he was inspired to always strive to face his fears head on.
Karl Subban also spoke about the importance of social justice and leadership and related that to the important work of the school's patron Saint, St. Catherine of Siena, and Viola Desmond. He described both women to be significant role models as they dedicated their lives to helping and serving others, especially people who are less fortunate. He spoke in depth of Ms. Desmond who stood up for racial discrimination and fought for equality. His presentation was very interactive, engaging, and relatable. He also shared personal stories of his family and his sons who play in the NHL, to the delight of students.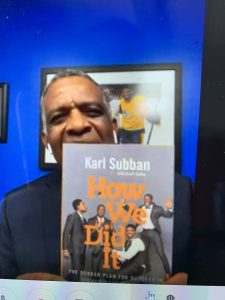 Since his visit, students and staff have reflected on his main message — that children should nurture their potential and God given talents. He stated, "my potential lies inside me, gives me the ability to dream, and reach for something so we can do more, be more and become more."
St. Catherine of Siena CES thanks Karl Subban for sharing his experience and stories and empowering students with the confidence that they should always utilize their God-given talents to reach their full potential.