Cardinal Carter Catholic High School in Aurora held many events and activities to mark Black History Month and shared profiles of Black saints and other historical leaders throughout the month. 
One of its highlights was a personalized video message from the Honourable Jean Augustine in commemoration of Black History Month.  Jean Augustine, who helped to bring Black History Month to Canada, was a virtual guest speaker with Grade 12 students at the Aurora high school in December. 
Cardinal Carter CHS shared resources with staff in a central hub that teachers could use in their classrooms throughout February. It also created themes for each week of February that encouraged discussions on representation, identity and equity.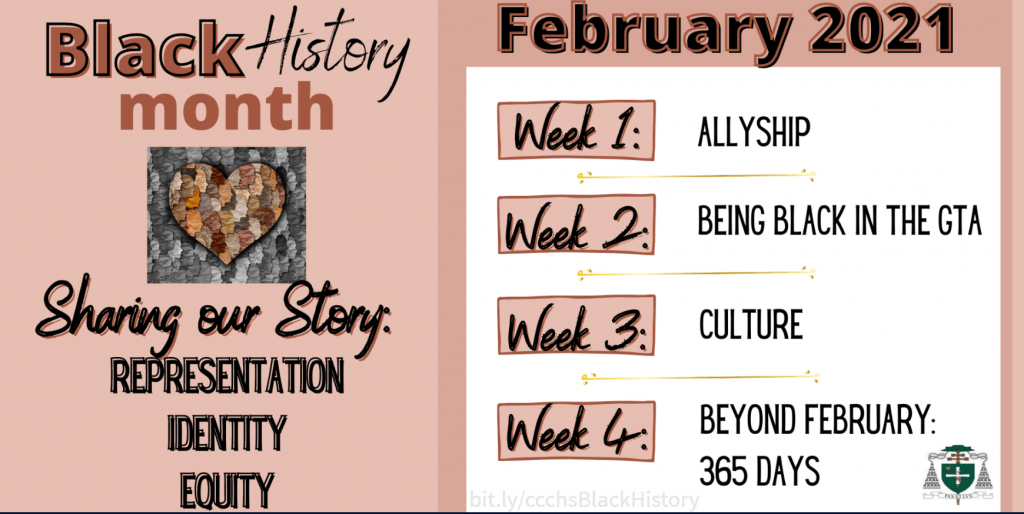 The theme for the first week was Allyship. The school shared a kick-off video which included powerful and thought-provoking words and images from its staff and students. The video helped to set the tone for the week's discussion on how to be an ally.
The theme for the second week was a modern, empathetic look at Being Black in the GTA. This provided a good opportunity for students and staff to discuss current events and share information about daily life.
The theme for the third week was Black Culture, where students enjoyed discussing music, food, dance, and more. The school's music council even shared a music playlist for students and staff alike to enjoy.
The theme for the fourth week was called, 365 Days, and it emphasized that Black history is more than just a one-month conversation.
Cardinal Carter wrapped up the month with a special presentation featuring Spoken Word Artist and Motivational Speaker, Dwayne Morgan on February 26th.