The York Catholic District School Board will be hosting a large scale food drive involving 59 of its elementary schools that will support eight different York Region area food banks.
"I am thinking of what St. Ignatius told us…He pointed out two criteria on love.
The first: love is expressed more clearly in actions than in words.
The second: there is greater love in giving than in receiving."

Pope Francis
The York Catholic Nurturing Hope Spring Food Drive will run from May 25 – June 8, 2021. Collection bins will be placed at the front doors of the school and families and community members will be encouraged to walk to their local participating school and place a bag of non-perishable food and/or personal hygiene items in the food bank bins between the hours of 8:30 a.m. – 6 p.m. on the school's food drive collection day.
For health and safety reasons related to the COVID-19 Pandemic, each school will only collect items on one designated day, as listed below. School food drive collection dates will be promoted through the schools' networks and the Board's Twitter account, @ycdsb in a way that pays homage to the volunteers of Vaccine Hunters Canada (@VaxHuntersCan) who have helped Canadians across the country find vaccine appointments.
"As we continue to navigate through this unprecedented moment in history and slowly begin to see some glimmers of hope for a better tomorrow, there continues to be a steady increase in the number of families who require support from our local food banks," says Angela Lomuto-Corriero, the Board's Nurturing Hope Spring Food Drive Lead and Principal at St. Padre Pio CES. "I thank all of our schools and community members for giving generously to help others in need."
Families are encouraged to take a walk to their school and place a bag of non-perishable food and/or personal hygiene items in the food bank bins. Please ensure that you maintain physical distancing and wear a mask while on school property. All food bank bins will be held in a five-day quarantine by the food banks prior to being handled by their volunteers.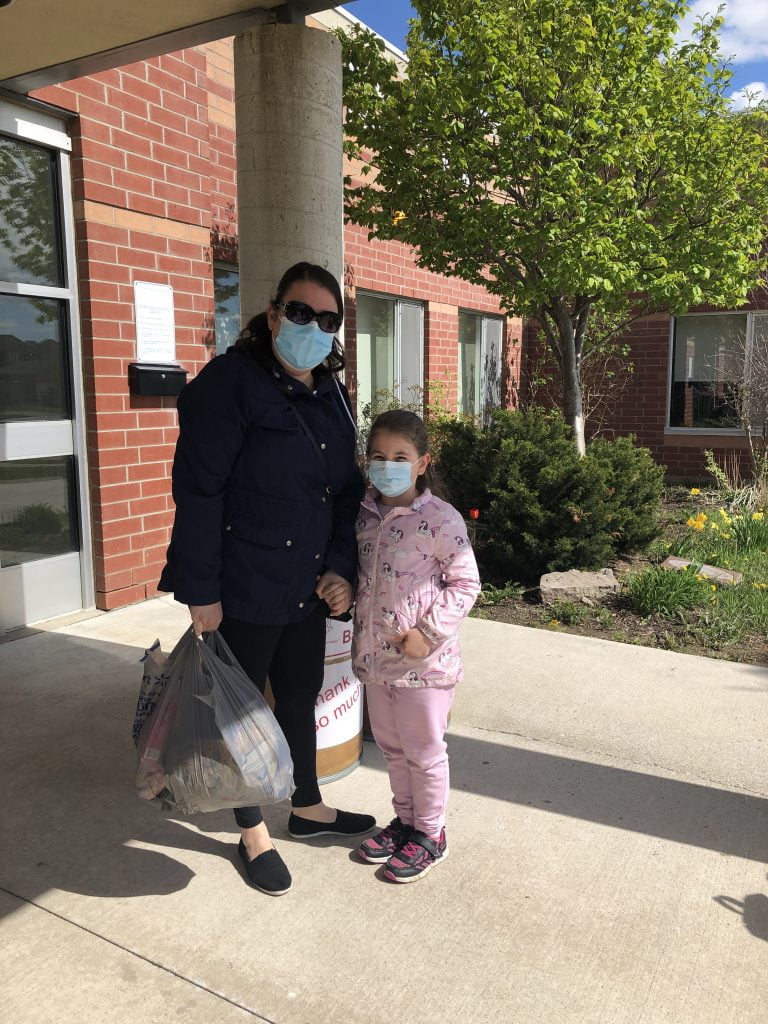 The school food drive collection day schedule is listed below. Some elementary schools not listed may have already held a food drive for their local food bank. Community members are welcome to drop off items at any nearby school.
School Food Drive Collection Day Schedule
#ycdsbFoodDrive
| School Name | School Address | Food Bank | Date |
| --- | --- | --- | --- |
| All Saints | 130 Castlemore Ave., Unionville | Markham Food Bank | May 25 |
| St. Kateri Tekakwitha | 230 Fincham Ave., Markham | Markham Food Bank | May 25 |
| St. Nicholas | 480 Keith Ave., Newmarket | Newmarket Food Pantry | May 25 |
| St. Paul | 140 William Roe Blvd. Newmarket | Newmarket Food Pantry | May 25 |
| Father Frederick McGinn | 61 Brockdale St., Richmond Hill | Richmond Hill Food Bank | May 25 |
| Our Lady of Hope | 80 Red Cardinal Trail, Richmond Hill | Richmond Hill Food Bank | May 25 |
| Our Lady of the Annunciation | 30 Bayswater Ave., Richmond Hill | Richmond Hill Food Bank | May 25 |
| St. Joseph The Worker | 475 Brownridge Dr., Thornhill | Richmond Hill Food Bank | May 25 |
| St Brigid | 223 Millard St., Stouffville | Whitchurch-Stouffville Food Bank | May 25 |
| Our Lady of Fatima | 191 Crofters Rd., Vaughan | Vaughan Food Bank | May 25 |
| Pope Francis | 15 Secord Ave., Kleinburg | Vaughan Food Bank | May 25 |
| St Stephen | 451 Napa Valley, Woodbridge | Vaughan Food Bank | May 25 |
| St. Andrew | 151 Forest Fountain Dr., Woodbridge | Vaughan Food Bank | May 25 |
| St. Margaret Mary | 30 Margaret Mary Rd., Vaughan | Vaughan Food Bank | May 25 |
| St. Padre Pio | 770 Napa Valley, Woodbridge | Vaughan Food Bank | May 25 |
| Light of Christ | 290 McClellan Way, Aurora | Aurora Food Pantry | May 27 |
| St. Thomas Aquinas | 262 Old Homestead Rd., Keswick | Georgina Food Pantry | May 27 |
| St. Mary | 75 Greenside Dr., Nobleton | King Food Bank | May 27 |
| St. Edward CES | 33 Cairns Dr., Markham | Markham Food Bank | May 27 |
| St. Francis Xavier | 223 Highglen Ave., Markham | Markham Food Bank | May 27 |
| Canadian Martyrs | 170 London Rd., Newmarket | Newmarket Food Pantry | May 27 |
| Our Lady of Good Counsel | 801 Murrell Blvd., East Gwillimbury | Newmarket Food Pantry | May 27 |
| St. Mark | 333 Glad Park Ave., Stouffville | Whitchurch-Stouffville Food Bank | May 27 |
| Immaculate Conception | 500 Aberdeen Ave., Vaughan | Vaughan Food Bank | May 27 |
| St. Catherine of Siena | 80 Terra Rd., Vaughan | Vaughan Food Bank | May 27 |
| St. Clare | 391 Velmar Dr., Vaughan | Vaughan Food Bank | May 27 |
| St. Gabriel the Archangel | 91 Fiori Dr., Vaughan | Vaughan Food Bank | May 27 |
| St. Gregory the Great | 140 Greenpark Blvd., Vaughan | Vaughan Food Bank | May 27 |
| St. John Bosco | 199 Belview Ave., Vaughan | Vaughan Food Bank | May 27 |
| Holy Spirit | 315 Stone Rd., Aurora | Aurora Food Pantry | June 1 |
| San Lorenzo Ruiz | 840 Bur Oak. Dr., Markham | Markham Food Bank | June 1 |
| St. Monica CES | 290 Calvert Rd., Markham | Markham Food Bank | June 1 |
| Notre Dame | 715 Kingsmere Ave., Newmarket | Newmarket Food Pantry | June 1 |
| St. Elizabeth Seton | 960 Leslie Valley Dr., Newmarket | Newmarket Food Pantry | June 1 |
| Blessed Scalabrini | 290 York Hill Blvd., Thornhill | Richmond Hill Food Bank | June 1 |
| Our Lady of the Rosary | 206 Glen Shields Ave., Concord | Richmond Hill Food Bank | June 1 |
| St. Michael | 41 Simonston Blvd., Thornhill | Richmond Hill Food Bank | June 1 |
| St. Brendan | 751 Hoover Park Dr., Stouffville | Whitchurch-Stouffville Food Bank | June 1 |
| St. Clement | 40 Bainbridge Ave., Vaughan | Vaughan Food Bank | June 1 |
| St. Peter | 120 Andrew Park, Vaughan | Vaughan Food Bank | June 1 |
| St. Anthony | 141 Kirk Dr., Markham | Markham Food Bank | June 3 |
| Corpus Christi | 35 Squire Dr., Richmond Hill | Richmond Hill Food Bank | June 3 |
| St. Anne | 105 Don Head Village Blvd., Richmond Hill | Richmond Hill Food Bank | June 3 |
| St. Mary Immaculate | 161 Regent St., Richmond Hill | Richmond Hill Food Bank | June 3 |
| Guardian Angels | 200 Lawford Dr., Woodbridge | Vaughan Food Bank | June 3 |
| San Marco | 250 Coronation Dr., Vaughan | Vaughan Food Bank | June 3 |
| St Agnes | 120 La Rocca Ave., Vaughan | Vaughan Food Bank | June 3 |
| St. Emily | 60 Vellore Woods, Vaughan | Vaughan Food Bank | June 3 |
| St. Mary of the Angels | 351 Vellore Park Ave., Woodbridge | Vaughan Food Bank | June 3 |
| St. Veronica | 171 María Antonia Rd., Vaughan | Vaughan Food Bank | June 3 |
| Our Lady Help of Christians | 275 Redstone Rd., Richmond Hill | Richmond Hill Food Bank | June 8 |
| St. Charles Garnier | 16 Castle Rock Dr., Richmond Hill | Richmond Hill Food Bank | June 8 |
| St. Joseph | 301 Roney Ave., Richmond Hill | Richmond Hill Food Bank | June 8 |
| St. Marguerite d'Youville | 121 Rollinghill Rd., Richmond Hill | Richmond Hill Food Bank | June 8 |
| Blessed Trinity | 230 Hawker Rd., Maple | Vaughan Food Bank | June 8 |
| Father John Kelly | 9350 Keele St., Maple | Vaughan Food Bank | June 8 |
| Holy Jubilee | 400 St. Joan of Arc., Maple | Vaughan Food Bank | June 8 |
| St. David | 240 Killian Rd., Maple | Vaughan Food Bank | June 8 |
| St. Raphael the Archangel | 131 Ravineview Dr., Maple | Vaughan Food Bank | June 8 |