Grade 12 students Aimee Petrea Chiripuci and Kiara Mavalwala named Schulich Leader Scholars
The York Catholic District School Board congratulates Aimee Petrea Chiripuci, Grade 12 Student at Father Bressani CHS in Woodbridge and Kiara Mavalwala, Grade 12 Student at St. Augustine CHS in Markham on each receiving the prestigious Schulich Leader Scholarship worth $100,000 for demonstrating academic excellence in science, technology, engineering and mathematics (STEM).
In September, Petrea Chiripuci will study science at Western University. She has contributed to the Father Bressani school community as an outstanding student, athlete and artist. She is an Ontario Scholar, was voted MVP on the Girls Wrestling Team and supported the school's arts program with her visual art talent. She was nominated for the award by her Guidance Counselor, Donna Venneri, who said, "Aimee epitomizes the attributes of a Schulich Leader. Her commitment to academic excellence coupled with an intellectual curiosity and innate drive to succeed as a leader contributes to her strength of character. Her determination and unshakeable resilience made her an outstanding nominee as she effectively balances the demands of school, extra-curricular activities and a part-time job."
Petrea Chiripuci said that she was both happy and shocked upon learning that she was named a Schulich Leader. "Being named a Schulich Leader is an honour and the scholarship is a great financial help," said Petrea Chiripuci. "I am grateful to have been chosen for this life-changing scholarship. I will be introduced to a network of people throughout my years at university and will make the most out of this opportunity. This scholarship will allow me to truly prosper as a leader and to grow my entrepreneurial mindset."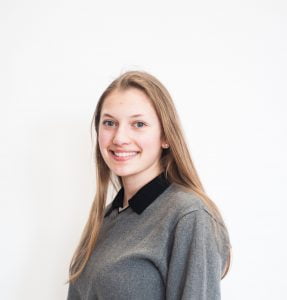 Mavalwala is a student in St. Augustine's STEM+ Focused Laptop Program and will study Engineering at York University in the fall. She is the manager of her high school's Best Buddies club, VP of the Eco Team, a leader for the school's Grade 9 orientation program and is also a member of several school sports teams including field hockey, snowboarding, ultimate Frisbee, soccer and volleyball. She was nominated for the Schulich Leader Scholarship by her Principal, Phyllis Vander Doelen.
"Kiara is an excellent, very committed and conscientious young person who exhibits much care and concern for others in all that she does," said Vander Doelen. "She has many excellent leadership qualities and her dealings with both students and staff are always thoughtful, courteous, co-operative and collaborative."
"It took a few days for the reality of winning the Schulich Leader Scholarship to sink in," said Mavalwala, "but now I'm ready and determined to use it to make the world a better place. My passion for engineering was sparked during my Grade 11 Indigenous-focused English class that opened my eyes to the inequalities across our nation. The engineering degree that I am pursuing offers the building blocks to create sustainable solutions that will help achieve change in local communities, across the country and beyond."
Recognizing the increasing importance and impact that STEM disciplines will have on the prosperity of future generations, businessman and philanthropist Seymour Schulich established this $100+ million scholarship fund in 2012 to encourage the best and brightest students to become Schulich Leader Scholars: the next generation of entrepreneurial-minded, technology innovators. Through the Schulich Foundation, these prestigious entrance scholarships are awarded to high school graduates enrolling in a science, technology, engineering or mathematics (STEM) undergraduate program at 20 partner universities in Canada.