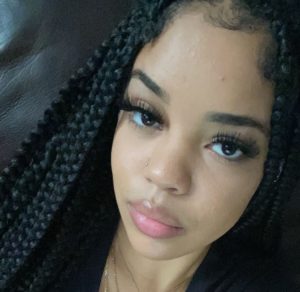 The team behind the YCDSB Our Voices website is celebrating York Catholic students who demonstrate Black Excellence. Today, we honour Selena Osunde from St. Joan of Arc Catholic High School.
Barack Obama once stated that "Change will not come if we wait for some other person or some other time. We are the ones we've been waiting for. We are the change that we seek." Selena Osunde is not wasting any time igniting that change.
Selena Osunde, a Grade 12 student at St. Joan of Arc Catholic High School has always shown a strong desire to learn, excel, and think outside of the box, consistently pushing her own boundaries. Driven by her core values of equity, perseverance and compassion, Selena has already begun to leave her mark.
Through 2019 and 2020, as the world witnessed the devastating impact of anti-Black racism, a Grade 10 student at the time, Selena knew that something had to be done. Selena understood that for students, families, staff, and community members with lived experiences of racism, these events could in fact create an increased sense of vulnerability, anger, pain, and sadness. That year Selena created the Black Heritage Committee (B.H.C.) at St. Joan of Arc Catholic High School.
The Black Heritage Committee is St. Joan of Arc's first-ever heritage club, which remains committed to speaking out against racism in all its forms. According to Selena, "The mission of the Black Heritage Committee is to provide a safe space for Black students and allies to meet, while continuing to inform our community on current events happening within the Black diaspora." Over the years, the Black Heritage Committee has produced numerous events and initiatives aimed at educating and inspiring the school community, through the achievements and contributions that Black people have made in helping to shape our history and the world as we know it today. One of their biggest projects to date is the soon to be released 1st edition "For the Culture" magazine.
However, this is merely the tip of the iceberg. Ms. Osunde achieves exemplary grades and has been a recipient of many awards including her distinction in being named to the Honor Roll for her entire secondary career, as well as the recipient of the York Secondary Catholic President's Council award for Outstanding Leadership in Grade 10 and again in Grade 11. As an inspirational student leader, Selena continues to set specific, realistic and achievable goals aimed at uplifting staff and students.
Selena credits her family for the constant support she has received, and also Ms. Caschera-Agati, her Grade 10 and 11 Drama teacher at St. Joan of Arc. Selena shares that, "Ms. Caschera helped shape me into the confident student I am today. She dedicated countless hours within and out of school time to help see my visions and ideas through, while teaching me to speak up and be confident in my ideas and hopes for the future of our high school." Selena also highlights Ms. Giovinazzo, and Ms. De La Cueva, both teachers at St. Joan of Arc, as great 'femtors' (women who provide mentoring), for providing support, advice and both a welcoming and comfortable atmosphere for students to feel free to be themselves.
Selena Osunde has always been, and continues to be, committed to making her community a better place not just for herself, but for the many students that come after her. Continue leaving your legacy, Selena! We are proud of you, your accomplishments, and look forward to your future. We know you will continue to grow as a creative and critical thinker who integrates Catholic Values into your daily life, as a socially responsible global citizen.