"We learn about the devastation of colonization and we recognize the difference between knowing about and understanding."
– Jo Chorona, "The Power of Tension and Hop"
Each year, September 30 marks the National Day for Truth and Reconciliation: Orange Shirt Day.  
Founder of Orange Shirt Day explains that when she went to Residential School at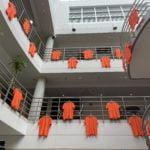 age 6, they took her shiny orange shirt, which she and her kokum had purchased for her to wear to school.  To Phyllis, the colour orange always reminded her of how her feelings didn't matter, how no one cared and how she felt like she was worth nothing.
The day recognizes all of the children who never returned home and survivors of residential schools, as well as their families and communities.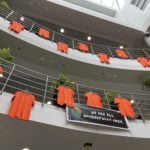 Orange Shirt Day is an Indigenous-led grassroots commemorative day intended to raise awareness of the individual, family and community intergenerational impacts of residential schools, and to promote the concept of "Every Child Matters." 
The orange shirt is a symbol of the stripping away of culture, freedom and self-esteem experienced by Indigenous children over generations.
Recognizing the importance of the public commemoration of the tragic and painful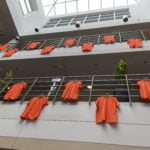 history and ongoing impacts of residential schools, the staff and students of the York Catholic DSB will be participating in a variety of activities intended to extend our understanding of National Truth and Reconciliation Day. 
The installation of blank orange t-shirts that hang in the atrium of the Catholic Education Centre represent the nameless Indigenous children who never returned home, those who were discovered in unmarked graves on the sites of residential schools and those who have yet to be discovered.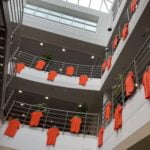 This week especially, let us reflect on and affirm our commitment to walking the path side by side with Indigenous communities, dedicating our efforts to not just the truth, but to putting meaning behind our words and focusing on transforming reconciliation to reconcili-action.
References: