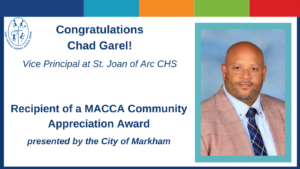 Congratulations to Chad Garel on receiving a 2023 Community Appreciation Award, presented by the City of Markham Mayor, Frank Scarpitti.  Every year, the Markham African Caribbean Canadian Association (MACCA), in collaboration with the City of Markham, awards individuals of African/Caribbean heritage who have made tremendous positive contributions to the community.
Chad is a highly-motivated, energetic leader who is passionate about his role, his community and the staff and students he works alongside each and every day.  He is an excellent educator with a very clear vision. His is confident in his ideals and enthusiastic about sharing and discussing ideas targeted at building safe and supportive schools.  Chad persistently believes that change is always possible and he is especially eager to address some of the challenges our communities are facing today.
As a Vice Principal and Black Graduation Coach, he has been able to inspire much-needed change at York Catholic DSB.  He values cultural diversity in the Board  and is always looking for ways to celebrate it.
Chad models inclusivity to staff, parents, and students by treating everyone equally and with great respect.  He is a role model to many of his peers and to the students with which he constantly finds time to work outside of the normal school day.
Chad's work with staff and students, whether it be through the numerous conferences he creates, his much-anticipated visits to students in summer programming, or simply in his daily interactions with community partners always strengthens and enhances attitudes toward learning and the educational system as well as individuals' perceptions of themselves.
York Catholic DSB continues to be amazed by Chad's infectious positive attitude and dedication to leadership.  We wish him continued life-long success and may God bless him always.