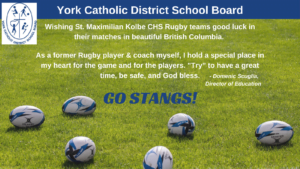 St. Maximilian Kolbe CHS Rugby teams are starting off their season on a big note.
They are playing matches in beautiful British Columbia from March 8-18, 2023. It's an exciting time for these athletes and coaches as they travel to three different destinations and play three matches a piece. One in Coquitlam, one in Nanaimo, and one in Victoria.
Director Dom has a special message for the St. Maximilian Kolbe CHS rugby teams!
We hope they have a terrific trip. Have fun, be safe and God Bless.
Here are a few highlight already: