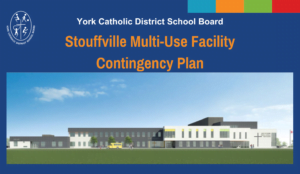 The York Catholic District School Board is currently building an exciting new complex in your community known as the Stouffville Multi-Use Facility. 
Unfortunately, we have recently been notified about construction delays at the facility caused by supply-chain issues and the pandemic.
We recently emailed families with information regarding a contingency plan that the YCDSB created for the Stouffville Multi-Use Facility. We are hopeful that this plan will minimize disruption for students and to bring these school communities together before the building is open. 
To ensure this information is accessible for everyone to see, we are posting copies of these emails on our website.
The YCDSB is committed to the excellence and well-being of our students. We know that this is disappointing news, and the architect, contractor and the YCDSB continue to look for ways to open the school as quickly as possible.
As always, we thank you for your continued support and patience as we complete this project that will serve the residents of Whitchurch-Stouffville for years to come. We are excited to bring together these school communities in September 2023!
Family and Caregiver Letters: