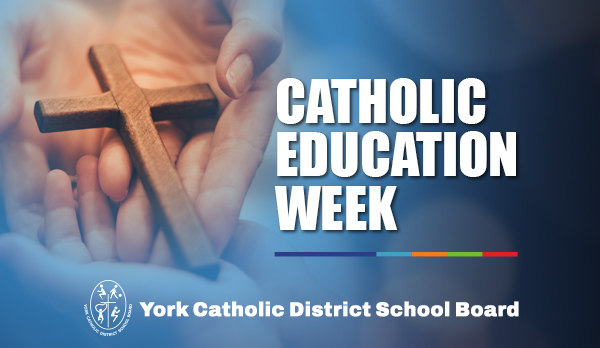 Dear Families of the York Catholic District School Board, 
We are very happy to celebrate another Catholic Education Week (CEW) with you! Every year, Catholic schools across the province take some special time to celebrate the unique gifts that Catholic education gives to the people of Ontario and our schools are no exception. Throughout the board, our schools are welcoming our communities into our schools  to showcase the wonderful work of our students.
This year's CEW theme is: "We are many, we are one in Christ" (Romans 12:5). All York Catholic schools display a similar verse on our school boulevard signs to demonstrate our commitment to equity and inclusion as we are all children of God made in his image.
We also want to acknowledge that proceedings at the past three Board of Trustee meetings have been disrupted by individuals who have violated the YCDSB's Code of Conduct by not showing respect for others. Our community members can have different opinions on how to best show support for each other in a Catholic school environment, but those conversations must be rooted in mutual respect because "we are many, we are one in Christ."
Many people – particularly those from our 2SLGBTQIA+ student community – have come forward to say they were frightened and hurt by these individuals' actions at our most recent Board Meeting on April 25, 2023. For those who experienced those feelings, on behalf of the Board of Trustees and the Senior Team of the YCDSB, we are very sorry.
Jesus taught us to "love one another as I have loved you." One of the virtues of Catholic education is its commitment to loving and nurturing learning communities. We thank all our students, staff and families for their hard work toward creating this environment. 
On this Catholic Education Week, we proclaim that all our students are loved and are valued members of our schools. We are honoured to be one with you in Christ. And we hope you will join us virtually for the CEW Provincial Mass on Wednesday, May 3 at 1:30 p.m. (you can watch a live-stream by clicking here). 
Yours in Christ,
Frank Alexander
Chair of the Board
Domenic Scuglia
Director of Education