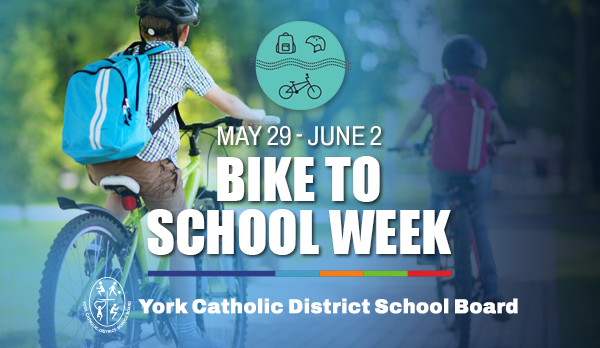 Bike to School Week is May 29-June 2
Let's get cycling!
Celebrate active modes of transportation like cycling and wheeling along with other students and staff across Ontario during Bike to School Week – May 29-June 2, 2023. 
Bike to School Week is a free and fun week-long celebration for kids of all ages and abilities.
When cycling, remember to:
Wear a properly fitting helmet. Every cyclist under 18 must wear a bike helmet.
Air Brakes Chain – Check your bike tires, brakes and chain before you start riding.
Ensure your bike has a working bell, white light or reflector at the front, and a red light or reflector at the back. For information and to learn more visit the Government of Ontario's bicycle safety information.
Cross at crosswalks, if there is one. Walk beside your bike when crossing the road.
Watch for cars backing out of driveways and turning at intersections.
Lock your bike in bike racks.
Be visible and dress for the weather.
For anyone who can't walk or cycle to school every day, we encourage you to try choosing an active mode of travel two or three times a week, or consider parking and walking a block to decrease the pollution around your school.
Benefits of Biking to School
Promotes physical and mental health
Students arrive energized and ready to learn
Improved safety in school zones
Good for the environment
Convenient, bicycling is often faster than sitting in traffic
Good for the community, encourages social interaction
Promotes life-long habits that foster independence and active lifestyles, preparing children for their future
Just plain old simple fun!
Cycling Safety Factsheet
Be Seen — Be Heard — Be Safe
Did you know?
Ontario law requires that you equip your bike with:
White reflective tape on the front forks and red reflective tape on the rear forks
A white front light and a red rear light or reflector if you ride between 1/2 hour before sunset and 1/2 hour after sunrise
A bell or horn that works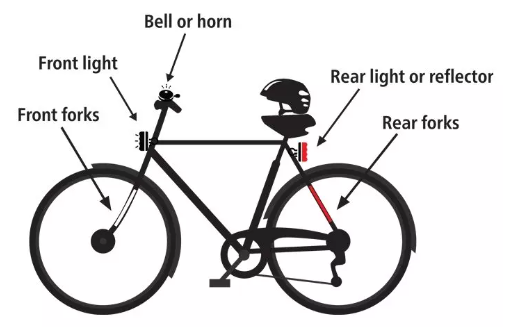 Every cyclist under 18 years of age must wear an approved bicycle helmet
School Staff
York Region has kindly offered to donate some items for the first 50 schools that register to help get your started with your bike to school week celebrations!
Items include:
Bike bells
Bike Lights
Bike Reflector Stickers
Spoke Lights or beads
Posters
If your school is interested please fill out the google form (Link below). We will have the kits delivered to your school through the internal mail. Note: you will be requested to share your plans for bike to school week and we kindly ask that you keep track how many kids are cycling by simply counting the number of bikes by the racks/fence once a day. These stats will help ensure future support.