These last couple of weeks have culminated in some very proud moments for me as an English teacher at Cardinal Carter.  I have had the opportunity to witness students truly caring about literature (and not just classical literature).  These students moved beyond their comfortable reading patterns and chose a supplementary book to read that was both contemporary and Canadian.  There was no need to look very far with Canada Reads 2017 upon us.
One goal of mine had always been to take a group of students to the live taping of CBC's Canada Reads, and this year I was finally able to do just that.  This group of students didn't just immerse themselves in the reading of the Canada Reads 2017 nominees in preparation for the excursion, but they were also enthusiastic to discuss these books and their merits as books that "all Canadians should read" in our class discussions.
These students went one step further and submitted their writing into a related writing contest hosted by CBC.  Two of our very own students were selected to read their writing on the air!  Additionally, Sheetal Kapadia's entry to the contest won the province-wide competition and Cardinal Carter was gifted with a visit from two Canadian celebrities – Ali Hassan, stand-up comedian and pCBC radio host, and Humble the Poet, spoken word artist and YouTube sensation.  
This experience wasn't just about the book that "all Canadian should read", or about our favorite spots in this great city. Instead, this event celebrated a group of diverse individuals celebrating our differences and coming together to talk about the books that bind, and more importantly the issues that bind us together.  
Our honoured guests shared their opinions about literature but also about the values that really matter in life, such as perseverance, hard work, and taking risks.
Our guests taught them to think beyond their potential salaries when planning for their futures, and instead to focus on how to make best use of their unique gifts and passions.
This group didn't just ask intelligent questions.  They actually cared about the answers.  They were open to answers even if they were contrary to popular opinion.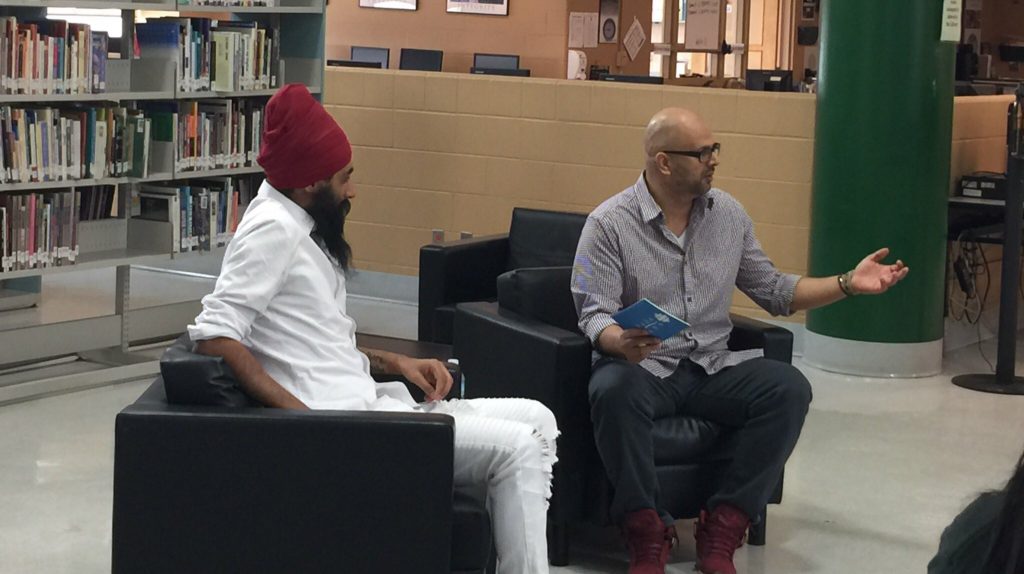 They were encouraged to seek different platforms for their interests and to not be afraid to try different things, even if it means potential failure or multiple failures, again and again.
That's life – it's messy and it's hard but beautiful and worth it.
My students got to hear about and experience the importance of laughter and comedy in our lives.
We, as a society, still have work to do by way of tolerance and acceptance of all, but Cardinal Carter students have begun a conversation.  And change begins by listening to others, and respecting others' opinions.  
These students, as representatives of our larger Cardinal Carter student body, proved that they care about what matters.  They weren't afraid to ask questions or express their different opinions.  These students sought knowledge. They shared their own experiences.  They encouraged and motivated their peers. They got excited about learning – this is why I do what I do.
These recent events have only reaffirmed my commitment to teaching in the high school English classroom.  And to think that it all began with students picking a "new" book to read!  
They brought their enthusiasm and open-mindedness to the reading. They took a chance and shared their writing, and they were active participants in a debate about books! Can you believe it?
This group impressed our guests with their maturity, genuine openness and preparation.  They proved that our Carter students defy the adolescent stereotypes that abound. They weren't self-absorbed, or uninformed or apathetic.  
I am confident that our students will go on to become responsible members of society who aren't afraid to grapple with life's "tough" stuff. 
I'm thinking the future is looking a little brighter.
Ms. Craveiro, English Teacher
Check out the Storify of the event below: