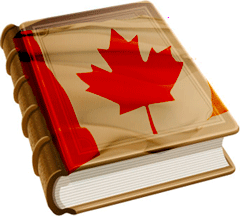 Availability

Semester 2

Prerequisite

Any university or university/college preparation course in Canadian and world studies, English or social sciences and the humanities.

Credit Value

1.0
This course examines the evolution of a Canadian national identity. Students will learn how modern Canada was shaped by the interaction among Aboriginal peoples, the French, the English, and subsequent immigrant groups. This course will enable students to evaluate major social, economic, and political changes in Canadian history from pre-contact to the present. The understanding students gain through their examination of Canada's historical and cultural roots will allow them to formulate a definition of what it means to be Canadian.
This course is comprised of four units, each of which has six to eleven activities (lessons and assignments). All units represent term work, except for the final activities of units 3 and 4, which represents the course culminating activity. The theme of social justice encourages the assessment of Canadians as a socially just people. The universal respect for human rights includes the respect for individual rights, Aboriginal People's rights, worker's rights, women's rights, and cultural group rights. It also recognizes that mistakes will be made along the way, but that the virtue of forgiveness is also part of that journey. This course presents students with the development of the Canadian identity from its formative phases to the present day. Students recognise that there are certain Gospel values such as social justice that transcend history and are still relevant in contemporary Canadian society.
Units and Activities
Unit 1: Early Beginnings: Prehistory to Colonization
Activity 1: The Historian's Task
Activity 2: Canada's First Peoples
Activity 3: First Contact and Footholds
Activity 4: Champlain and New France
Activity 5: "Soldiers of Christ": The Jesuit Experience
Activity 6: New France Takes Root
Unit 2: The Dominion is Born 1690-1867
Activity 1: Empires Conflict and Compromise: 1690-1756
Activity 2: Acadia and the Great Upheaval
Activity 3: The Battle of the Plains of Abraham
Activity 4: Conquest and Consequences
Activity 5: The American Revolution: A Test of Loyalties
Activity 6: The United Empire Loyalists
Activity 7: Checkpoint: "Two Founding Nations"
Activity 8: Cause and Effect: The War of 1812
Activity 9: Reform or Revolt
Activity 10: An Immigration Story
Activity 11: The Road to Confederation
Unit 3: From Dominion to Nation 1867-1918
Activity 1: "From Sea to Sea"
Activity 2: Testing the Bonds of Dominion
Activity 3: The National Policy
Activity 4: The Schools Question: Then and Now
Activity 5: Industrialism Comes to the Dominion
Activity 6: 20th Century Immigration: "Pride and Prejudice"
Activity 7: A Canadian Identity: "The Fork in the Road"
Activity 8: Canada at War
Activity 9: War on the Home Front
Activity 10: Symbols of a Nation
Activity 11: Course Culminating Activity Essay Outline
Unit 4: The 20th Century: A Nation Emerges
Activity 1: The Road Ahead
Activity 2: Readjustment and Reform
Activity 3: The Great Depression
Activity 4: Canada and World War II
Activity 5: Canadians in Action
Activity 6: The Homefront Responds
Activity 7: 1945 – 1975: Canada as a Middle Power
Activity 8: The Issues of Our Time
Activity 9: Pre-requisites for a Great Civilization
Activity 10: Course Culminating Activity The Research Essay