Accelerated OYAP programs provide opportunities for grade 11 and 12 students to earn high school credits, register as apprentices, and complete all or part of their Level 1 In-School apprenticeship program…while still in high school. Programs exist in the following areas:
Automotive Service Technician
Baker
Child Development Practitioner (ECE)
Cook
Drywall, Acoustic and Lathing Applicator
Electrician
Floor Covering Installer
General Carpenter
Plumber
Refrigeration and Air Conditioning systems Mechanic
Apprenticeship Links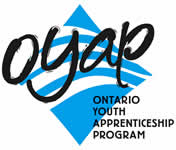 OYAP is a School to Work program that opens the door for students to explore and work in apprenticeship occupations starting in Grade 11 or Grade 12 through the Cooperative Education program.

Recruitment, Resources, Results. Connecting Employers and Apprentices across Ontario.
Resources
For further information on Pathways programs please contact your guidance department.
Connect with us on Twitter at: on Twitter @pathwaysYCDSB and @SHSM_YCDSB