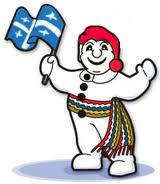 At St. Agnes of Assisi Catholic School we are committed to providing our students with quality French education.  We believe that student learning can be enriched by providing them with the opportunity to engage in French traditions.  In keeping with this belief, our school will be hosting "Carnaval 2017" beginning Monday February 13, 2017 and ending Friday February 17, 2017.   Winter Carnaval began in Quebec in 1894 and remains a continuing tradition today.
This year's Carnaval activities include:
BINGO CARNAVAL: Classes will receive a Bingo card. Each morning Caranval words will be called out.
CARNAVAL THEME DAYS: students are encouraged to participate in the daily Caranval theme days.
OTHER EVENTS: Daily visits from Bonhomme, candy guessing (50¢ per guess or 3 for $1.00) and Carnaval music on announcements