Congratulations to the St. Agnes of Assisi Cross Country Team who par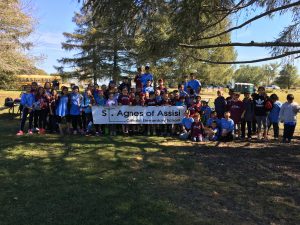 ticipated in a cross country meet organized by the York Catholic School Board on Monday, October 2nd at Bruce's Mill in Stouffville. Over 55 students from Gr.4 to to Gr 8 trained for and participated in the meet.
There was a high level of competition with a large number of students representing each grade from schools across the region participating. Our school had five students rank in the top 10 for their grade specific race and many other students from our school rank in the top 20 for their grade. A special congratulations to Ashley in Gr. 6 who came in third out of 68 runners, and will go on to the Board Finals Meet on Thursday, October 19th. It is important to note that many coaches and parents commented on the great sportsmanship and team spirit the students from St. Agnes of Assisi demonstrated. A heartfelt thank you to Mr Celucci, Ms Botticchio, Ms Zanette, Mr Torrone, Ms Fini and Ms Aquino.
Congratulations to the entire team. We hope you come out again next year.