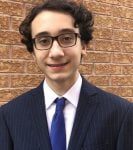 Senior Student Trustee
Biography
Alessandro Casbarro is a Grade 11 student at Father Bressani Catholic High School in Vaughan. Inspired by his passion for community service, he is very grateful for, and looks forward to the opportunity of holding the position of Junior Student Trustee for the 2020-2021 academic year.
In December of 2018, Alessandro co-founded the Vaughan Youth Food Drive, a Christmas initiative which raised 16,000 pounds of food for the Vaughan Food Bank. That initiative led him to receive a 2018 Vaughan Volunteer Recognition Award. Caritas School of Life Mental Health and Addictions Centre is near and dear to Alessandro's heart. Through their Ride and Walk Fundraiser he has raised $15,000 to support their cause. He was recognized For Outstanding Community Work with a 2018 Newman Initiative Award.
This year, Alessandro has co-founded Bridges of Love, a charity that helps families in need across the GTA. Throughout the COVID-19 pandemic Alessandro has also volunteered his time with Pasta It Forward, a new initiative that helps deliver meals to those in need during this difficult time, along with donating 2000 surgical masks to Long-Term Care Homes in Vaughan to help support front-line workers. He is an all around community leader and looks forward to serving his school and all schools across the YCDSB.
Personal Statement
Mental Health is Health. Throughout this period of isolation, uncertainty, and extra-ordinary times during COVID-19, we have learned now more than ever, the importance of mental health. It is a struggle for all of us, it is our fight and we will be successful.
My message to you is simple: don't be afraid to speak up, to express your thoughts and feelings, it is not a sign of weakness. Know that there are tools and resources available to assist you.
We need to work together to eradicate the stigma. We all know someone who is fighting, or, has fought this uphill battle. As your Student Trustee, you can count on me to work closely together with the excellent Board of Trustees to find practical solutions and supports for all of our students.