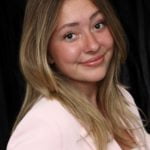 Senior Student Trustee
Email: anthea.petadragos23@ycdsb.ca
Biography
Anthea Peta-Dragos is a Grade 11 student in the French Immersion program at St. Maximilian Kolbe Catholic High School in Aurora. Inspired by her passion of helping others and making a difference in her community, Anthea said she is very grateful to hold the position of Senior Student Trustee for the 2021-2022 academic year.
Passionate about sports, dance and the subjects of science, as well as being awarded First on the Principal's List in 2020, Anthea strongly believes that academic achievements, combined with arts, sports and other extracurricular activities, are a winning combination for students to acquire the organizational and mental skills they need to benefit them throughout their lifetime. As a member of St. Maximilian Kolbe's Student Council, Anthea has supported her school's initiatives and activities. She enjoys making a difference in her community by volunteering in support of various causes, as well as through teaching dance to children, working as a Camp Counsellor, Swim Instructor and Lifeguard. As a passionate advocate for children and girls' rights, in May 2021 Anthea participated in the 2021 Plan International Canada's Youth Summit, a global organization dedicated to advancing children's rights and equality for girls.
Personal Statement
The education system has suffered major changes that impacted the lives of thousands of students, teachers and school administrators due to the COVID-19 pandemic. Engaging and enabling students to openly communicate their opinions and concerns, as well as promoting positive mental health has become more important than ever. Encouraging active living, stress management, positive self-esteem and creating open communication environments so students can talk about different problems and concerns are all very important aspects that I take into serious consideration.
I believe that every single student voice is important and matters. Together, we are all one voice with one common goal: to create a better and healthier educational space that will help every single one of us achieve our potential and succeed in life. The excellent team of Trustees is here to support and encourage you throughout your educational journey. Believe in yourself. Get involved in the activities you love to do. Use your interests and talents to guide you through the challenges you may encounter in life. Most importantly, I want to remind you to never give up!
If there is something you would like to bring to the Board of Trustees, don't hesitate to contact me.