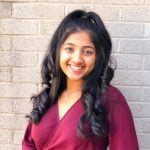 Junior Student Trustee
Email: teresa.siby21@ycdsb.ca
Biography
A Grade 11 student at St. Robert Catholic High School in Thornhill, Teresa is a passionate lifelong learner and youth advocate, inspired by faith and a call to service.
She has served two successful years on Student Council, and is the founder of St. Robert's Catholic Youth Fellowship club. In addition, Teresa holds an executive seat on the York Catholic Secondary President's Council, and was also a member of the Mental Health Committee that organized a MindFull spirit week, centered around the theme "Stronger than Stigma".
Currently, she is proud to act as the OSTA-AECO Student Well Being working group co-chair, representing more than 2 million students across Ontario.
In May 2019, Teresa was elected Junior Student Trustee for the York Catholic District School Board. At that moment, she pledged to effectively communicate with students across York Region, and speak up for the lonely, the marginalized, and the neglected. In this upcoming term, she will strive to uplift issues such as the importance of stable education, Catholic leadership, and selfless service.
In addition to her extracurriculars, Teresa is co-founder of The Honduras Project, which partners with a Christian organization to provide educational videos on the subject of Math, Science, and English. She also works as the Sponsorship Co-Ordinator for Brain Space, the student-led Mental Health organization that builds step-by-step awareness through a variety of fundraising initiatives.
Personal Statement
"I am no different from the Kenyan girl who walks kilometres every day to fetch water for her family, or the young boy who works three part-time jobs to help feed his family. What sets me apart from these two individuals is that I have an education, the most powerful weapon against all injustice. This fundamental right, we are so effortlessly granted, is at an unattainable reach for some children around the world and even in our local community.
I believe that every single student has the potential to use their education for benevolent success. Our elementary and secondary schools serve as a second home to us, where we build a generation of change-makers, a community of advocates, and a family that lives by faith.
Students, you are the most vital part of our school community. I encourage you to participate in extracurricular activities, express your concerns, and use your passion to inspire change. Allow me to be your pillar of support and ensure that no voice goes unheard.
I promise to express your needs and concerns to the best of my ability throughout my two years in this position. All you have to do is reach out to me via email, phone, or Twitter. Your opinions matter and have the power to prove why we are the leaders of today, not tomorrow."
Individually we are one drop, together we are an ocean. – Ryunosuke Satoro