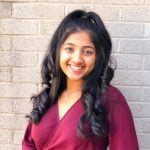 Senior Student Trustee
Email: teresa.siby21@ycdsb.ca
Biography
Teresa Siby is a Grade 12 student at St. Robert Catholic High School in Thornhill. Inspired by her faith and a call to service, she is very grateful to hold the position of Senior Student Trustee for the 2020-2021 academic year.
She has served two successful years on the Student Council, and is the founder of St. Robert's Catholic Youth Fellowship club, Agape. In addition, Teresa holds an executive seat on the York Catholic Secondary President's Council. During school closures, she co-founded Student Supports, a network of students across Ontario encouraging each other to keep a high morale during quarantine and positively contribute to the community from a safe distance.
Currently, she is proud to serve as the Catholic Board Council President of OSTA-AECO, advocating for equity gaps and accessibility concerns in Catholic Education at the provincial level. In communication with the Vice-President, she has chosen to organize the Catholic Board Council's advocacy work through three pillars: Student Well-Being, Family in Faith and Ecological Education.
In May 2019, Teresa was elected Junior Student Trustee for the York Catholic District School Board.  At that moment, she pledged to effectively communicate with students across York Region, and speak up for the lonely, the marginalized and the neglected. In this upcoming term, her vision is to make more students aware of the voice they have at the board table while addressing concerns about sustainable stewardship and student well-being.
Personal Statement
In the duration of just one school year, we have experienced union strikes, school closures and the unfamiliar style of distance learning. However, these hindrances have provided youth with yet another opportunity to prove their resilience. In our Board specifically, student advocates have stepped up to organize walkouts, speak with the Minister of Education, fundraise for frontline workers and start youth-led initiatives to address students' concerns during the pandemic. At York Catholic, student leadership is built on empathy and faith, two virtues that fulfill our universal vocation. As we begin a new school year, let us remember these virtues and help build a generation of change-makers.
Now more than ever, educational gaps will reveal themselves in that each student has had a different experience with distance learning. Whether it's a kindergartener falling behind on reading homework because they lack the support at home, or a Grade 12 student struggling to catch up on calculus homework because of their demanding part-time job, both these students have the potential for success.
That is why our School Board is calling on you, the most vital part of our education system, to reach out with your concerns about equity. You can trust in us, the Student Trustees, to wholeheartedly advocate your priorities and work with the incredible Board of Trustees, as well as the entire York Catholic staff, to create a safe and inclusive school environment.
In return, I challenge you to join a club you're interested in, come out to a York Secondary Catholic Presidents' Council (YSCPC) meeting, and let your voice echo throughout the halls of York Catholic. You are the leaders of today, setting an example in the words you speak, the actions you take, and the way you love.
 "Let no one despite your youth, but set the believers an example in speech and conduct, in love, in faith, in purity."

1 Timothy 4:12