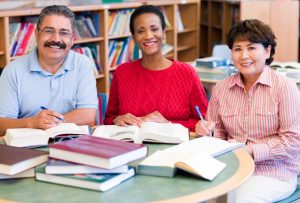 Offered During

Fall, Winter, Summer

Days

Monday, Tuesday, Wednesday, Thursday, Friday, Saturday

Cost

No Cost
Registration is ongoing!
If you have an English Language Assessment
Please call: 416-221-5051 ext. 13630
If You Require an English Language Assessment
Book an appointment for a free language assessment or schedule an appointment near you,
Please call: 1-855-330-8655
E-mail: ysla@tcet.com
Website: www.tcet.com/assessments
Program Description
Adult English classes are offered throughout York Region during the day, evenings and on Saturdays
Registration accepted in person at the location where you wish to take the classes during the days and times specified in the brochure
A consumable fee applies (preferable paid by cheque)
Proof of immigration status is required when registering
Registration is ongoing.
Eligibility
Canadian Citizens
Permanent Residents
Convention Refugees
Refugee Claimant
For Non Residents (Visitors)
Visitor Fees:
$7 (Canadian Funds) per instructional hour
Full or Part Time programs
Register in person at one of the locations in the brochure
Please bring visitor documents or passport with you