2020-2021 York Catholic DSB Student Census Video
York Catholic District School Board Census Information Session
A community information session was held for parents/guardians and school communities about the Student Census. The virtual information session was held on November 25, 2020.
View the Census Information Session on YouTube.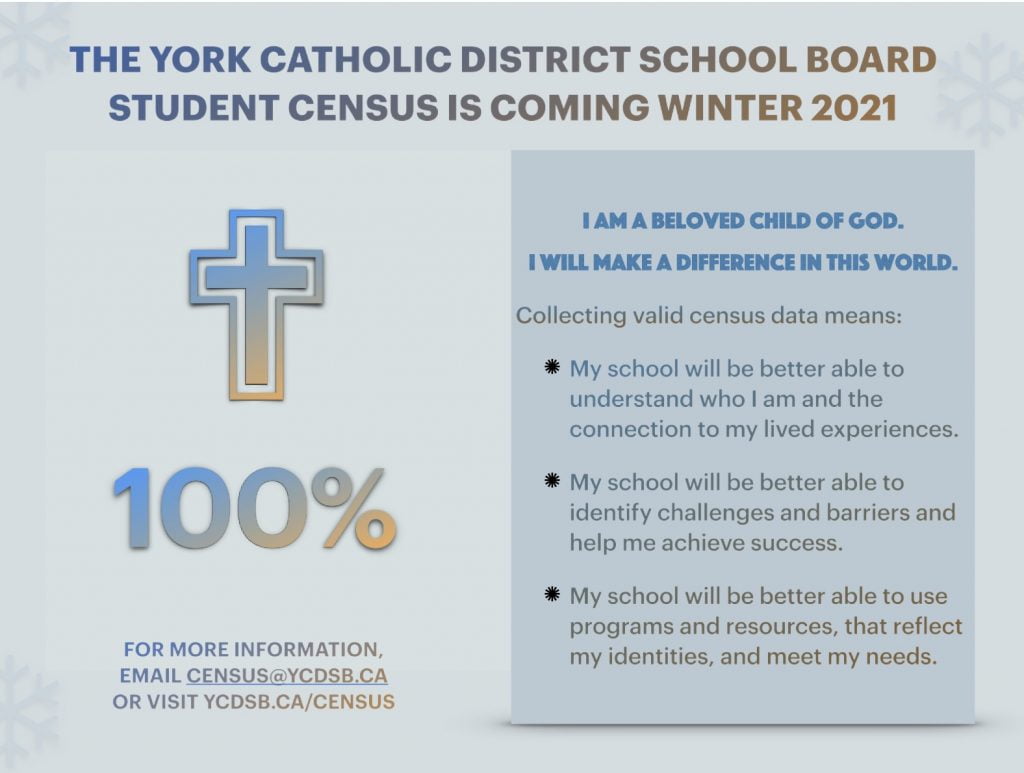 The York Catholic District School Board student census is coming winter 2021
I am a beloved child of God. I will make a difference in this world.
Collecting valid census data means:
My school will be better able to understand who I am and the connection to my lived experiences.
My school will be better able to identify challenges and barriers and help me achieve success.
My school will be better able to use programs and resources, that reflect my identities, and meet my needs.
Each Student is a Beloved Student of God
Each student is a beloved child of God endowed with gifts from God and sent to make a difference in the world. With this in mind, we remain committed to helping all students achieve their God-given potential and experience success as creative and critical thinkers who integrate Catholic values into their lives as socially responsible global citizens.
Why We Are Conducting a Student Census
In fulfillment of its mission of educating and inspiring all students to achieve their full potential in a safe and caring environment, the York Catholic District School Board (YCDSB) is conducting a voluntary and confidential Student Census in early 2021 to better understand the backgrounds, experiences and needs of our students and communities. The collection of demographic data is a Ministry initiative that is intended to "foster policies, procedures and practices that are equitable and inclusive for ALL students – regardless of background, social identity or personal circumstances – and that support closing achievement and opportunity gaps."
An important way to ensure success is to know and understand students in the richness of their diversity and uniqueness. An essential component of this work is gaining a better understanding of the intersectionality of social identities on student achievement. The information that your child provides will help us better identify the barriers to student success and what we need to do to create more equitable and inclusive learning environments as we work to improve equity, achievement and well-being for all students.
Purpose of the Student Census
The Student Census is important.
It will provide us with valuable insight into who are our students, their backgrounds and lived experiences, as well as the needs of our students and school communities. This information collected from the Student Census will help us address opportunity and achievement gaps to ensure that every student can be successful.
Research tells us that student achievement is influenced by many factors, including students' lived experiences related to their ethnic and cultural background, gender, socio-economics, parental education and engagement, safety, and sense of belonging. The data gathered from the Student Census will help us understand how these factors impact student success. We will use the census information to make equitable and informed decisions about our policies, practices, programs, partnerships, resources and services. The census information will also help inform the refinement of the YCDSB Multi-Year Strategic Plan, the student, school and board improvement planning process, and the Board's Human Rights, Equity, Inclusion and Diversity Strategy.
Questions and Answers about the Student Census
Why are we planning to administer a Student Census?
How can I find out more about the census?
What can I expect from the Student Census Information Session?
What if I, or my child, can't access the census online?
What types of questions are included in the Student Census?
Do I need to answer every question on the census?
Do students require parental permission to complete the Student Census?
How will responses be kept confidential?
How is the Student Census confidential but not anonymous?
Will students lose access to any programs if they do not complete the census?
How will responses be kept confidential and secure?
Will the census be available in a variety of languages?
Why would I want my child to complete the Student Census?
Census Community Information Session Questions and Answers
Will there be representation of minority cultures in the census?
Is this information protected? Who has access to this data? Will it be accessible to outside sources?
Will there also be a part with regard to schools in low income neighbourhoods where some of the student population come from and how those economic needs will be taken into consideration with accessing resources and technology and just overall sensitivity to those families?
How will this data be integrated in our policies/children's school environment for families who are facing socio-economic challenges, or identify as marginalized or racialized family? Who is held accountable when this is not honoured and how does the parent group 'access' these policies?
Is it anonymous?
Additional information for parents of students in Kindergarten
Additional information for parents of students in Grades 7-12
Resources
Student Census Questionnaire
Authorization to Collect Data
Personal information is collected under the authority of the Education Act, R.S.O. 1990, c. E.2 and Bill 114, Anti-Racism Act, 2017, complies with the Municipal Freedom of Information and Protection of Privacy Act, R.S.O. 1990, c. M.56, and aligns with the Ontario Education Equity Action Plan, with funding from the Equity Secretariat.
Confidentiality Statement
The York Catholic District School Board (YCDSB) Student Census is confidential. We respect the privacy of our students and families. Data will be collected in a secure manner in accordance with applicable privacy legislation and best practices. Questionnaires will have unique access codes assigned to them. Data will be stored on internal YCDSB servers and accessed by authorized YCDSB research staff to analyze the data. Reports will never single out or identify a student or family and will only be reported in summary to understand the needs of our school communities. Moreover, board trends will only include findings where there are 10 or more students.
Should you have any questions about the Student Census, email census@ycdsb.ca
ATTN: YCDSB CENSUS
c/o York Catholic District School Board
320 Bloomington Road West
Aurora, Ontario
L4G 3V4