We are not accepting any new applications at this time.
About the Theatre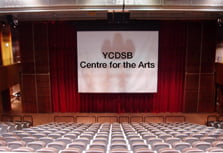 The YCDSB Centre for the Arts is located at 525 New Westminster Drive in Thornhill, Ontario. It is located adjacent to St. Elizabeth Catholic High School and supports the Regional Arts Program at the school by acting as a venue for numerous plays, dance recitals, musicals, art shows, and other special events. The 374-seat* theatre can be rented out as a performance venue to other schools, community groups, organizations and individuals. The theatre is operated by the York Catholic District School Board.
The first performance held at the YCDSB Centre for the Arts was in November 2005 by Opera York. It celebrated its official opening on February 23, 2006. Since then hundreds of performances and special events have taken place at the YCDSB Centre for the Arts.
The theatre is equipped with wireless microphones, a programmable lighting system, video presentation capabilities, and much more. It also offers:
flexible seating configurations; balcony seating
tasteful decor in a comfortable and intimate setting
exceptional acoustics
A modern control room
a large lobby, dressing rooms, and washrooms
wheelchair accessibility
plenty of free parking for audience patrons
videography service packages
cost effective rental packages
experienced staff to help make your event a success
Photo Gallery
Testimonials
Lienne Adamsone: Jazz Be Nimble Dance School
Noel Pinto, Doug Frenandes, Frances Correa: Canorient Christians Association
Jacqueline Cook-Barber: JCB Danceworks
Rabbi Levi Jacobson: Jewish Russian Community Centre
David Farro: Holy Cross C.A.