The York Catholic District School Board will host a public consultation evening for our new Multi-Year Strategic Plan on Wednesday, May 29, 2019, at 7 p.m. in our Boardroom at the Catholic Education Centre, which is located at 320 Bloomington Road West in Aurora.
The consultation evening will include a presentation of our Multi-Year Strategic Plan draft goals in order to solicit further feedback to assist in the direction of Board over the next four years. We encourage you to attend as we value your partnership and would like to be certain that your input reflects the decisions that will affect our Board in the years to come.
Thank you for your ongoing support.
Mission Statement
Guided by Gospel Values and Catholic Virtues, in partnership with home and Church, we educate and inspire all students to reach their full potential in a safe and caring environment.
Vision Statement
Our students will become creative and critical thinkers who integrate Catholic Values into their daily lives, as socially responsible global citizens.
Core Values
Catholicity
Excellence
Equity
Fiscal Responsibility
Inclusion
Integrity
Respect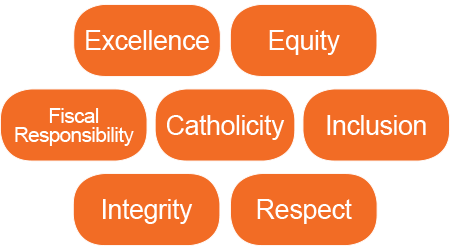 Strategic Commitments
Integration of Our Catholic Faith
Continuous Improvement of Student Achievement
Effective Use of Our Resources
Engaging Our Communities