We are still here for our school community this summer! Check out
this newsletter
for mental health resources and services.
Approximately one in five children and youth in Ontario has a mental health challenge and about 70% of mental health challenges have their onset in childhood or youth.
Schools are an ideal place to promote mental health, notice concerns early, offer services, and provide ongoing support. When students are feeling mentally well, they are more available for learning. Research has linked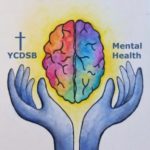 participation in high-quality social emotional learning at school with students' emotional wellness AND their academic achievement.
The York Catholic District School Board recognizes the importance of increasing awareness of the early signs of child and youth mental health problems; decreasing stigma; and understanding that help is available. We are strongly committed to promoting Mental Well-Being in all our students.
If you have general concerns about your child, the mental health professionals are available for assistance. Please contact your child's school principal.
Follow @YCDSB_MH on Twitter for helpful mental health and well-being information and resources.