When:
2022-10-12T00:00:00-04:00
2022-10-13T00:00:00-04:00
We sign ourselves in the name of the Father and the Son and the Holy Spirit.  Amen. 
October is Global Diversity Awareness Month.  Throughout this month all are invited to celebrate, promote and appreciate the differences among us as people living together in harmony.
This month we look at the Ontario Catholic Graduate Expectations that ask us to be discerning believers. CGE 1 This means that not only are we faithful to God and the Church but we also seek to find out more about our faith. 
We are reminded that we may be different,  but we are all part of the Body of Christ.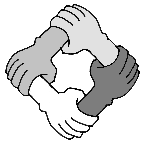 Jesus modeled for us how to treat one another with respect and love.  We are called to ensure that our words and actions reflect kindness and compassion to one another.   
Jesus is our true model of compassion. 
Let us close our prayer with the Hail Mary.
Hail Mary, Full of grace,
The Lord is with you.
Blessed are you among women
and Blessed is the fruit of your womb, Jesus.
Holy Mary, Mother of God,
Pray for us sinners now and at the hour of our death. Amen.
We close in the name of the Father, and the Son and the Holy Spirit, Amen.