When:
2022-10-04T00:00:00-04:00
2022-10-05T00:00:00-04:00
We begin our reflections and prayers in the name of the Father and the Son and the Holy Spirit.  Amen.
Today is the Feast of St. Francis of Assisi.  St Francis is known for many things, including his generosity to the poor, his willingness to minister to the outcast and his love for animals and nature.  Our present Pope has chosen Francis as his name.
St. Francis is the patron saint of animals and the environment.
He was also a great model of Compassion.  Not only did he have great sympathy for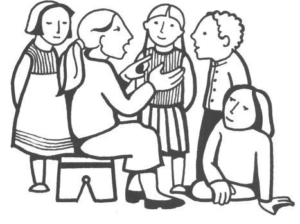 the poor but he also loved all of God's creatures, calling them Brother or Sister.  May we always be so compassionate that we can call each other brother or sister because we are all part of the family of God.
A Special Blessing for Animals:
The animals of God's creation inhabit the skies, the earth, and the sea. They share in the ways of human beings. They have a part in our lives. St. Francis of Assisi recognized this when he called the animals, wild and tame, his brothers and sisters. Remembering Francis' love for these brothers and sisters of ours, today we invoke God's blessing on all animals, including our pets, and we thank God for letting us share the earth with all the creatures.
Let us close with the prayer of St. Francis:
Lord, make me an instrument of Your peace.
Where there is hatred, let me sow love;
where there is doubt, faith;
where there is despair, hope;
where there is darkness, light;
and where there is sadness, joy.
O, Divine Master,
Grant that I may not so much seek to be consoled as to console;
to be understood as to understand;
to be loved as to love;
for it is in giving that we receive
it is in pardoning that we are pardoned;
and it is in dying that we are born to eternal life.  OCGE 6e
Amen.
We close in the name of the Father and of the Son and of the Holy Spirit.
Amen.