When:
September 14, 2022
all day
2022-09-14T00:00:00-04:00
2022-09-15T00:00:00-04:00
In the name of the Father and of the Son and of the Holy Spirit.  Amen.
Today is the Feast of the Triumph of the Holy Cross. This is the patron day of Holy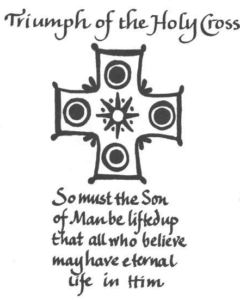 Cross Catholic Academy in Woodbridge, a day in which we honour the cross on which Jesus was crucified.  Our faith in the resurrection of Jesus gives us courage in our lives to live as followers of Jesus and is celebrated today as a "tree of life" that brings hope to humankind.May we take time today and tomorrow to see how we as learners and disciples of Jesus can reflect on the ways our values, gifts and dreams are leading us in His footsteps. OCGE 4g
Jesus showed courage in His love for us as He died for us on the cross.  Lord, help us to live our lives with courage, especially in difficult times.
We pray that the courage of Jesus be with us on our journey as lifelong learners:
We pray:
God's presence with you stay
Jesus to shield you in the fray
Spirit to protect you from all ill
Trinity there guiding you still.
On sea or land, in ebb or flow,
God be with you wherever you go.
In flow or ebb, on land and sea
God's great might your protecting be.
Let us pray with the words that Jesus taught us:
Our Father, who art in heaven,
Hallowed be Thy Name.
Thy Kingdom come. Thy Will be done,
On earth as it is in Heaven.
Give us this day our daily bread.
And forgive us our trespasses,
as we forgive those who trespass against us.
And lead us not into temptation,
but deliver us from evil. Amen.
In the name of the Father and of the Son and of the Holy Spirit.
Amen.