The population in York Region has continued to climb over the last several years. The population in 2006 was 932,000, in 2011 grew to 1,065,500, and is expected to reach 1,200,000 people by 2016. This is anticipated to increase to 1,500,000 people by 2031. While there is significant growth through various residential forms, the demographic shifts currently being experienced throughout the nine municipalities have had, and will continue to have, an impact on the Board.
Despite the overall growth in the Region, over the last few years the Board has experienced various changes in enrolment, including a yearly decline in the Elementary panel, mainly due to the high outgoing grade 8 class sizes and the lower number of JK students replacing them. Elementary enrolment growth is expected to continue to decline due to decreasing JK class sizes, as a result of both decreased student yield from new development and a decreasing share between the YCDSB and the YRDSB.
In contrast to the Elementary panel, the Secondary panel is expected to see fluctuations of both moderate decline and growth over the next few years. As illustrated in the graph to the right, the Board has experienced slight enrolment decreases at the secondary panel over the past three years. The yearly variations in the number of incoming grade 9 students, as well as the amount of students from Open Access, contribute to the fluctuations seen in the Secondary panel. The IB program (and coinciding increasing school popularity), and the implementation of the FI program at the Secondary level contribute to the long term growth of the Secondary panel.
Historical and Projected Elementary Enrolment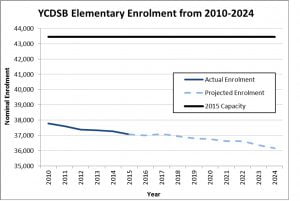 YCDSB Elementary Enrolment from 2010-2024
Historical and Projected Secondary Enrolment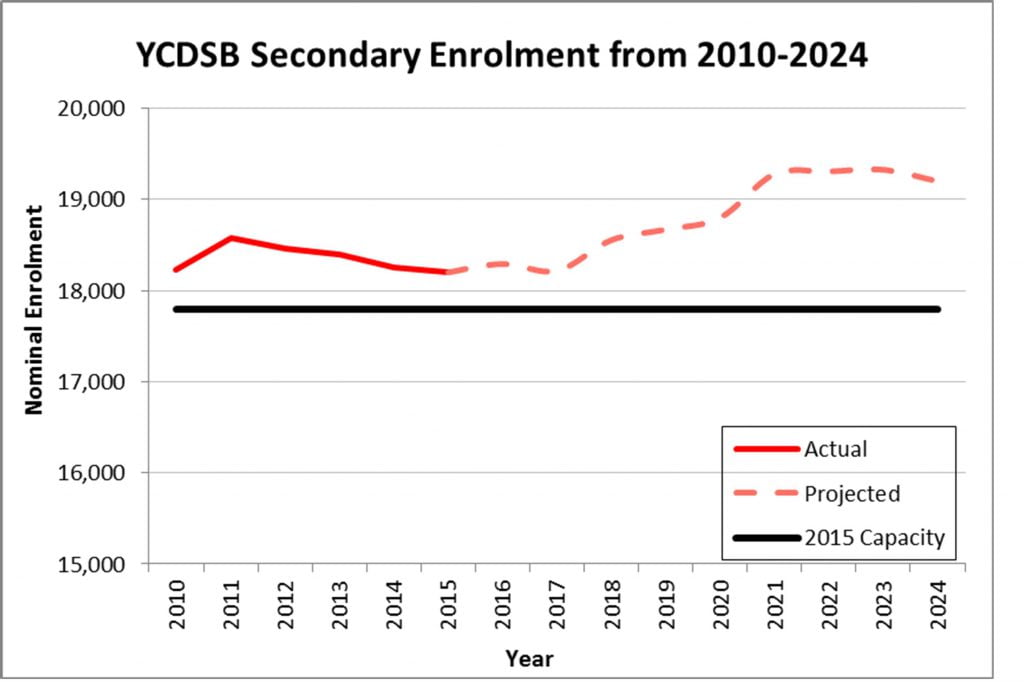 YCDSB Elementary Enrolment from 2010-2024